Young people
Young people are the future of Port Stephens. We support our local youth by creating opportunities to get together, connect with local community groups and agencies, and have a say in decisions that affect them.
Youth Plan
There are more than 10,000 young people aged 12 to 24 years living in Port Stephens (2016 Census) — about 16% of our population. Our new Youth Plan is being created in close consultation with young people. It's based on 3 key concepts:
participation of young people in their community
aspirations for the future
creating safe, innovative spaces and places for young people.
The plan is scheduled to go to Council in late 2020.
Connections project
A common theme during consultation was the need for connection — online, support and social. We've turned these into a series of postcards to advocate for a dedicated youth space, with the help of artist Nick Stuart.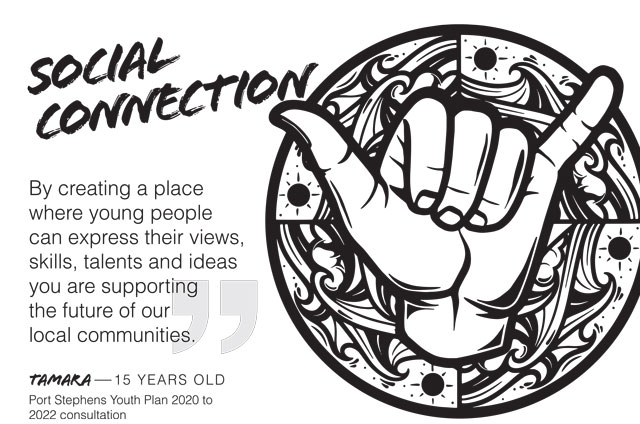 Youth Advisory Panel
Our Youth Advisory Panel (YAP) provides an opportunity for local young people to contribute to decision-making in Port Stephens. Our YAP members:
help Council find out about important issues for young people and advise how these can be addressed
help develop local projects for young people
comment on Council plans and strategies
represent Council at youth events.
If you're aged 15 to 25 and you want to make Port Stephens a better place for young people, you're invited to join the YAP!
Want to join? Email youth@portstephens.nsw.gov.au
NSW Youth Week
Youth Week is an opportunity for young people to express their ideas and views, act on issues that affect their lives, and create and enjoy activities and events. It's organised by young people for young people.
Each year around April, we celebrate Youth Week in Port Stephens. We'll share details of upcoming events here next year.