Coastal Management Program
The coast is one of our greatest assets. Our community values the coast for its environmental, social and economic benefits. But there are also many threats which have the potential to impact how we enjoy the coast both now and in the future.
What is a coastal management program?
We know there are concerns in our community about the changing coastal environment. Some changes we are already seeing and feeling — for others we need to look further into the future for what is likely to happen.
A coastal management program (CMP) sets the long-term strategy for managing our coast. It identifies risks to our coast and how to manage these now and into the future, so we can all continue to enjoy the benefits of the coast for years to come.
A CMP is a requirement for all NSW councils under the Coastal Management Act 2016. The diagram below shows the various stages of a CMP with more information available on the NSW Department of Planning and Environment website.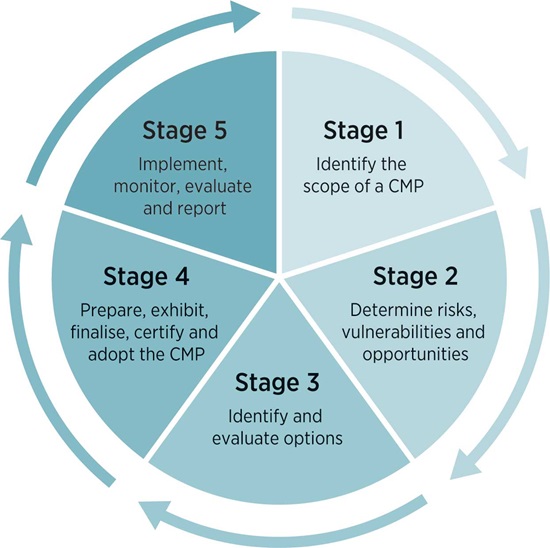 Source: NSW Department of Planning and Environment
Where is the CMP up to?
For the past 2 years, we've been working on the foundations of the CMP and talking with our community on how you use and value the coast.
In stage 1, our scoping study determined that the main coastal hazards impacting Port Stephens are:
coastal erosion — an imbalance in sand movement that results in the continued loss of sediments, mainly caused locally by storms and sea level rise
coastal inundation — the temporary or permanent flooding of land, mainly caused locally by tides, storm surge, waves and most significantly, sea level rise
windblown sand — the Stockton Bite is home to a transgressive coastal dune systems which is migrating landwards over time.
In stage 2, we undertook a number of studies to assess these coastal hazards now and in the future. We held a webinar series to give our community a chance to hear about our draft coastal hazard modelling.
View the webinars:
What's next?
In early 2023, we'll begin stage 3 of the CMP. This will involve working with our community to identify options for the management of our coastal areas in a way that supports the environmental, social and economic values that make Port Stephens a great place to live, work and play.
Key links