International Women's Day Scholarships
The Port Stephens International Women's Day Scholarship Program encourages women to achieve their goals.
International Women's Day is held on 8 March to celebrate the social, economic, cultural and political achievements of women across the globe. The day also marks a call to action for accelerating gender parity.
These scholarships support Council's efforts to create a community where women are safe, healthy, equally represented and valued for their contribution to society.
We offer 3 scholarships for women aged 16 years and older of $1000 each. The scholarships are to assist a woman to achieve an important goal and contribute to their community — across arts, culture, environment, business, community, health or sport during 2020.
2020 winners
Congratulations to the recipients of the 2020 International Women's Day Scholarships!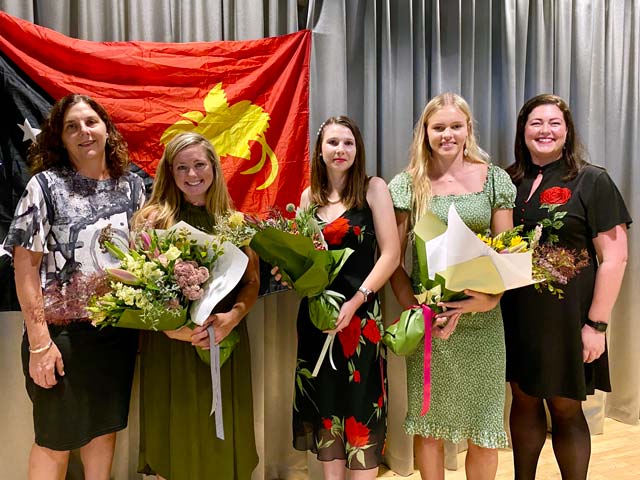 Pictured: Cr Sarah Smith, Chontelle Grecian, Asha Larkin, Grace Hewitt and Cr Jaimie Abbott at the 2020 International Women's Day lunch
Grace Hewitt
Grace is a year 11 student who has represented Fingal Beach Surf Lifesaving Club at State and National Titles and whose long term goal is to qualify in athletics for the Commonwealth Games in 2022. The scholarship will help Grace with costs associated with her ongoing training.
Asha Larkin
Asha has a diploma in fashion business and has completed a styling course, currently studying event management at TAFE NSW. Asha's goal is to present a sustainable fashion runway event which would help to educate us all about the environmental impacts of the fast fashion industry. The scholarship will allow Asha to organise and run a free sustainable fashion event for Port Stephens residents.
Chontelle Grecian
Chontelle runs a Facebook group specifically for Port Stephens Mums with a business idea or fledgling business. Chontelle has found in the past that childcare needs have been a major barrier to women attending training and networking events so she intends to use the scholarship to offer free business workshops which would include qualified child care onsite.
Previous winners
The following winners were awarded a $1000 International Women's Day Scholarship from Port Stephens Council.
Successful applicants funded in 2019
Saffron Quantrell of Anna Bay is raising up local women by sharing inspiring stories in her free family magazine 'What's on in our Backyard'. With assistance from her scholarship, Saffron plans to publish a new annual magazine called 'Real women of Port Stephens' featuring inspiring stories from a diverse selection of women from all walks of life.
Maya Stewart of Nelson Bay is a role model for aspiring sports stars. She is currently playing for the NSW, Waratah Women's Super W team and has represented Australia at an international level.
Emily Healy of Medowie is just 16 years old and has started a business to teach children and young people how to cook wholefoods free from additives and preservatives.
Successful applicants funded in 2018
Jackie Dujmovic is the Director and founder of drone system company Hover UAV. Jackie used her scholarship to run workshops that connected young people and in particular young women with drone technology. At the workshops she educated participants about the various careers in the sector such as coding, operating and maintaining drones, and taught them the rules and regulations of operating unmanned aerial vehicles in public spaces.
Allissa Hassett is an art therapist who provides therapy and recovery support. Allissa used her scholarship to establish an open art therapy support group for Port Stephens women in crisis, or those who were rebuilding their lives post-crisis. Through her art therapy workshops at a local community centre the participants reconnected with their authentic selves and began to practise self-care again.
Skye Swan is a yoga instructor based in Nelson Bay. Skye used her scholarship to establish Frontline Yoga Port Stephens from April 2018 onwards. Frontline Yoga is a non-profit movement that offers yoga classes to military personnel, police, firefighters, paramedics and healthcare workers, particularly those with post-traumatic stress disorder (PTSD).