Young people
Young people are the future of Port Stephens. We support our local youth by creating opportunities to get together, connect with local community groups and agencies, and have a say in decisions that affect them.
Youth Advisory Action Panel
Our Youth Advisory Panel (YAAP) provides an opportunity for local young people to contribute to decision-making in Port Stephens. Our YAAP members:
help Council find out about important issues for young people and advise how these can be addressed
help develop local projects for young people
comment on Council plans and strategies
represent Council at youth events.
If you're aged 15 to 25 and you want to make Port Stephens a better place for young people, you're invited to join the YAAP!
Want to join? Email youth@portstephens.nsw.gov.au
YAAP Information Nights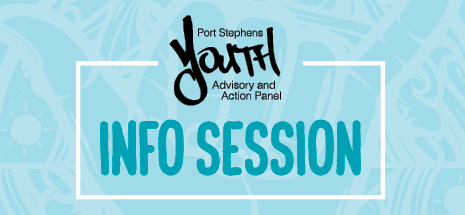 NSW Youth Week 2021 — Pizza for the Planet
Youth Week is an opportunity for young people to express their ideas and views, act on issues that affect their lives, and create and enjoy activities and events. It's organised by young people for young people.
In 2021, we brought young people together for a range of environment-themed events including Pizza for the Planet.
Why Pizza for the Planet? Young people in Port Stephens say the environment is important to them. This was made very clear when we met to discuss ideas for the new Port Stephens Youth Strategy 2020 to 2025.
Youth Strategy
Our new strategy was created in close consultation with young people. The research conducted helped us identify 4 emerging priorities that inform the action plan for the future:
Be heard and involved: young people want to be involved in decision making processes
Connected and belonging: for young people this is paramount to their wellbeing
Ready and have pathways to success: access to information and innovation is critical
Healthy and happy: strong local networks of support are necessary
Connections project
A common theme during consultation was the need for connection — online, support and social. We've turned these into a series of postcards to advocate for a dedicated youth space, with the help of artist Nick Stuart.