Integrated plans
To meet our community's vision and objectives, we use the Integrated Planning and Reporting (IP&R) Framework. This comprises:
Community Strategic Plan
Council's Delivery Program
Operational Plan
What is the Community Strategic Plan?
The Community Strategic Plan sets out our community's long term vision. It:
identifies community aspirations and priorities over the next 10 years
outlines Council's role in delivering these priorities
sets out how we will work with other governments and agencies to achieve our community's priorities
provides for community participation in decision making
provides a basis of accountability and consistency in reporting.
How do we get there?
The Delivery Program sets out Council's objectives for the next 3 years to assist in achieving the Community Strategic Plan. We report on the Delivery Program every 6 months.
The Operational Plan includes actions to implement the Delivery Program, which area of Council is responsible for implementing each action and what we deliver. Operational Plans are annual with budgets and include fees and charges.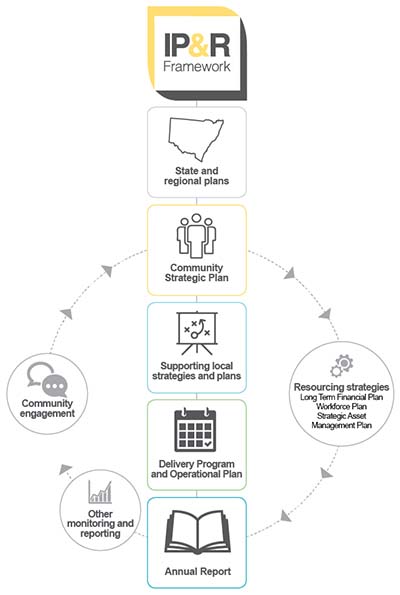 Current Integrated Plans
These comprise the Community Strategic Plan 2018 to 2028, the Delivery Program 2018 to 2021 and the Operational Plans 2020 to 2021.
How will Council resource it?
Plans that are not properly resourced won't necessarily work. To meet our community's objectives, we need long term resourcing strategies:
Long Term Financial Plan — how we will deliver the objectives and strategies in the Community Strategic Plan by ensuring they are matched by appropriate resources.
Strategic Asset Management Plan (SAMP) — a framework for managing current and future Council assets so appropriate services are effectively delivered to the community. The SAMP must be for a minimum 10 year period and reviewed and rolled over annually. It includes traditional assets like roads, footpaths, buildings and drainage as well as assets that are unique to coastal councils like seawalls, surf clubs, lifeguard towers, wharves and jetties.
Workforce Plan — ensures there are enough resources available in the right place, at the right time, with the right skills to deliver on the community's vision.
Fees and charges — approved charges and fees for Council services.
We actively seek other funding sources like grants to match Council's contribution, as well as using funding from developer contributions and commercial profits and grants. These additional funds are not guaranteed.
Download our Resource Strategy 2020 to 2030:
How do we know when we have succeeded?
Council uses 7 key measures to record performance. Targets for each of these measures are determined annually and are listed in the Delivery Program. The measures are:
Service delivery
Employee engagement
Governance
Risk management
Financial sustainability
Infrastructure Backlog
Reporting on performance
We are committed to open and transparent reporting. Council regularly reports on its performance to ensure the community is informed of our operations, achievements and progress in meeting community priorities. Our reporting documents include: