Rate rise information
Council has worked with the community through a number of rate increase options with a reduced independent recommendation scenario being put forward in our application to IPART.
Under the reduced independent recommendation scenario, the income generated would primarily be used to cover the increased costs and fund existing services at current levels over the next ten years. We would reach our 1% surplus resilience target for the majority of the next ten years and be financially sustainable. Income generated above this is proposed to be spread across fixing our roads, looking after our public space and protecting our natural environment, waterways and foreshores, with roads maintenance prioritised.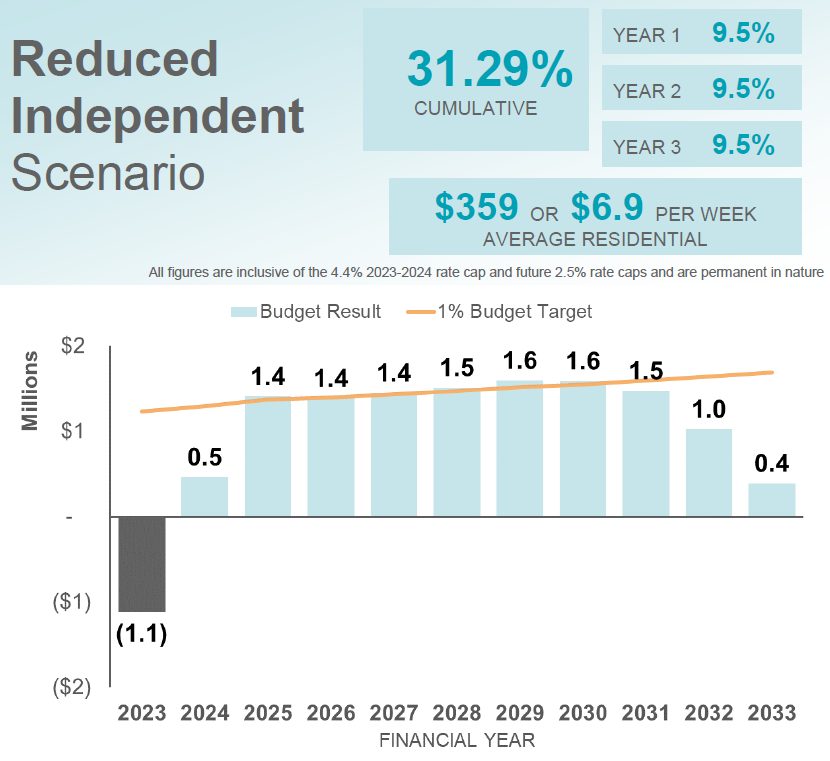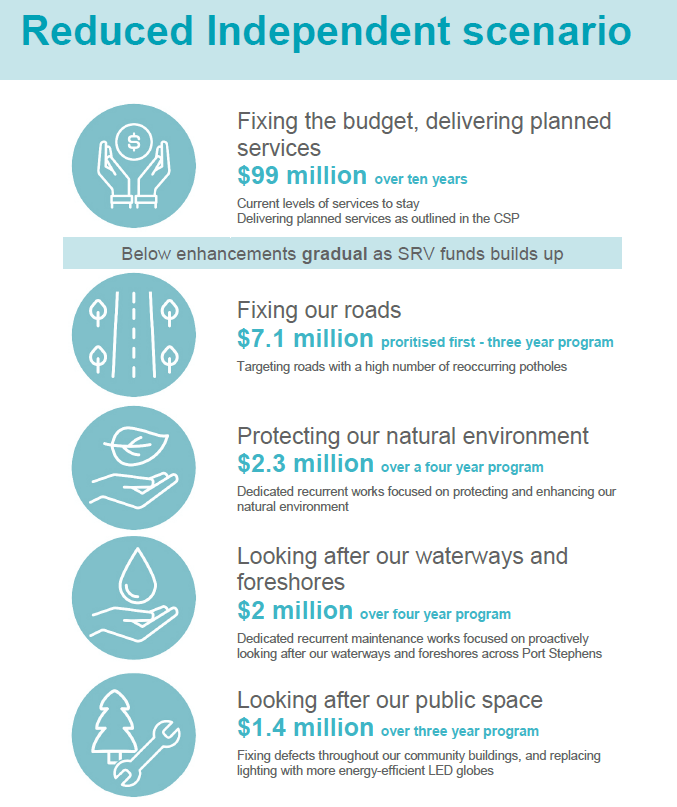 Under the base scenario, we would not generate sufficient funds to continue providing existing service levels or renew its assets when required. We will not be financially sustainable and we will need to further look at reducing or ceasing services. If no corrective action occurred we would see annual operating shortfalls.
If this is the path forward, we and the community would have future lengthy community conversations to understand exactly what services the community is prepared to see reduced or stopped. The community would see an overall reduction in services in particular maintenance levels, for example more potholes as our road network deteriorates further, shorter hours at facilities, longer processing times for customer requests/applications, and fewer community events.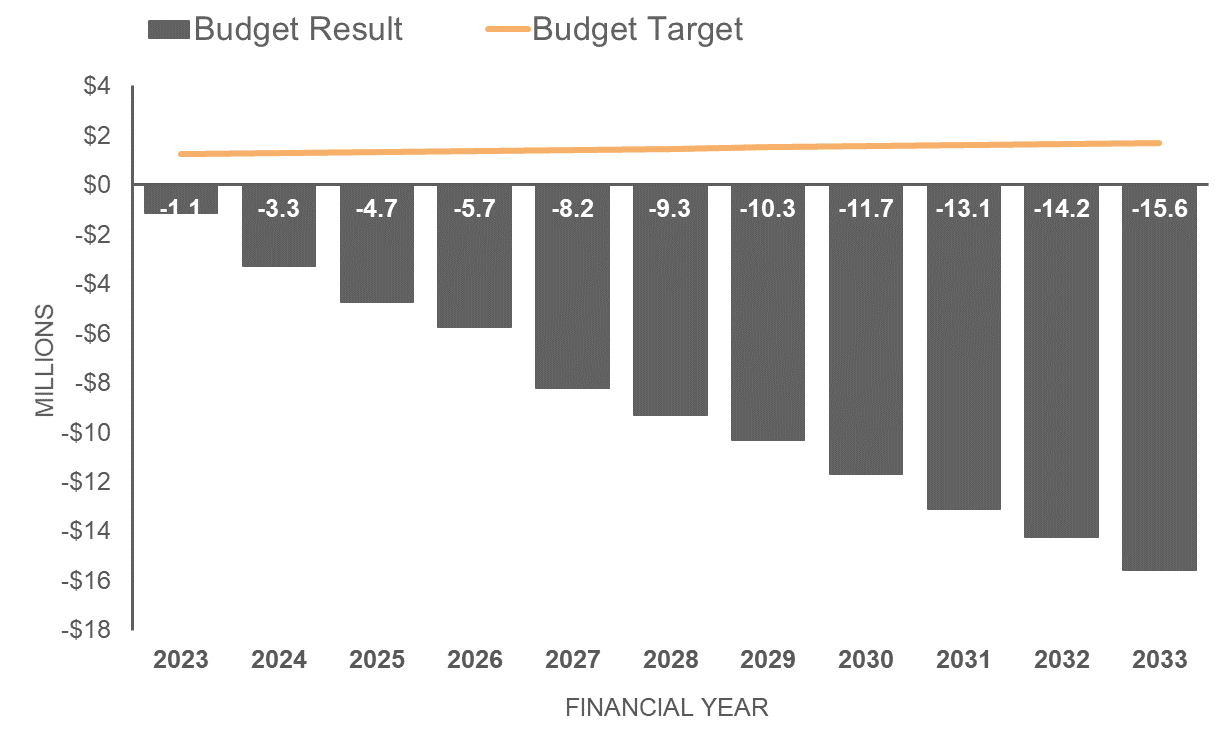 Proposed additional affordability measures
These additional measures are being considered as part of the proposed special rate variation in order mitigate the impact of a rate increase to those ratepayers who may experience financial stress.
Increase the scope of the Rates Assistance Program to include pensioners to a limit of $250 and increase the limit for non-pensioners to $500.
The current limit is $250 per non-pensioner ratepayer per annum. There is potential to increase the individual ratepayer assistance limit to $500 for non-pensioner ratepayers and introduce a $250 limit for pensioner ratepayers. This higher level of assistance might encourage more ratepayers experiencing financial hardship to seek to take up assistance under the program.
Increase the scope of the Fees and Charges financial assistance to include waste charges reduction for koala carers, in addition to ratepayers with medical conditions that result in a large amount of waste.
This kind of financial assistance has been offered in the past however, this change would look to formalise the financial assistance to koala carers who require an additional waste service for their volunteer activities, in addition to ratepayers with medical conditions.
Increase the scope of the Debt Recovery and Hardship Policy to include a mechanism, within appropriate parameters, for referral of financial hardship matters to Council in the event of a significant event affecting Port Stephens primary producers.
The Debt Recovery and Hardship Policy could potentially include a clause to invoke referral to Council of hardship considerations for primary producers in the event of a natural disaster such as storm, flood, bushfires or disease outbreak. It is envisaged a report to Council would quantify the financial impacts and propose a response feasible within financial constraints.
Increase the debt balance threshold for commencement of legal action from $1,200 to $1,400.
The current processes are working satisfactorily, with the notice periods ratepayers are generally unsurprised at the commencement of legal action should it be required. No change to processes or timeframes proposed. It is proposed to increase the legal action commencement threshold from $1,200 to $1,400 to mirror increases in legal costs, rates and charges.
As part of Council's engagement and application to IPART for a Special Rate Variation Council adopted the Integrated Planning and Reporting (IPR) revised for a Special Rate Variation documents after being on public exhibition for 28 days. These plans outline the need and purpose for a special rate variation and how the funds would be spent if an rate rise was approved.
The rate cap figure for the 2023-2024 financial year has been announced by IPART (Independent Productivity and Regulatory Tribunal). It's been set at 3.7% and Port Stephens has been recognised as a population growth area and can apply an additional 0.7% – taking the total rate increase to 4.4%. Even though the rate cap for 2023-2024 is slightly higher than the budgeted 2.5%, it doesn't meet the current and anticipated inflation rates and Council is still facing a forecasted shortfall of over $80 million over the next 10 years. IPART have also indicated that Councils should continue to forward project rate capping increases of only 2.5% for the next number of years.
The increased rate cap figure, if applied, will mean that any Special Rate Variation percentage applied for the 2023-2024 financial year will be reduced by the amount of the rate cap. The two options total percentage amount currently on public exhibition will remain, however, the cumulative effect of the Independent Scenario is now reduced to 32.60%.