Youngsters and oldsters connect through technology
Monday 30 May 2022
Council is launching a new program aimed at building the digital skills of our older generation with the added bonus of employing our youngsters to teach them.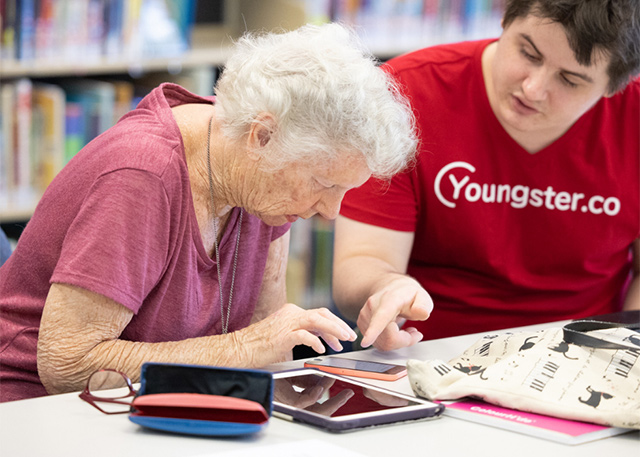 ---
Mayor Ryan Palmer said that with 40% of the Port Stephen's population aged over 50 years this program will help to alleviate the unique challenges this significant group of our community face – especially after COVID-19.
"Following the pandemic, our community may be suffering from social isolation, losing the ability to connect with their friends and family on a regular basis," Mr Palmer said.
"With communication moving online during the pandemic and carrying on this way as lockdowns subside, any struggles our older residents have with the digital world may mean they've lost all means of communication.
"This program encourages our residents to venture out, frequent their local libraries, reigniting their sense of belonging and reinforcing the importance they have to our community," he added.
The program has been funded through an Australian Government Be Connected grant and Council are partnering with Youngster.Co to deliver it, with a launch event planned for Friday 10 June at Tomaree Library and Community Centre.
Owner of Youngster.Co, Tony Rothacker says their goal is to promote intergenerational engagement with the "youngsters" working together to help our seniors understand and use their technology.
"This program is two-fold – allowing us to address isolation and loneliness in our older generation while our Youngsters tap into their strengths, build confidence and gain essential life skills," Mr Rothacker said.
"Our vision is to see a world where our seniors are engaged and respected and our young people are valued, have meaningful jobs and are part of a vibrant community," he added.
Sessions are available for seniors to book at Tomaree Library, Raymond Terrace Library and the Mobile Library at Karuah, Medowie and Lemon Tree Passage.
Library Services Manager Kris Abbott says the launch event will kick start what's sure to be a successful community program.
"These sessions are the perfect opportunity to have your technology questions answered – whether it's help to download and install apps like Service NSW or learning how to chat online with family and friends – the Youngsters can solve almost every general tech problem in the first session," Ms Abbott said.
"Rather than the normal planned workshops, these sessions really are aimed at helping with your individual everyday digital and technology problems and are a chance to for our older generation to share their life wisdom with the Youngsters at the same time," she added.
The official launch of the Building Digital Skills program is on Friday 10 June from 3:30 to 4:30pm at Tomaree Library and Community Centre. Find more information at portstephens.nsw.gov.au/building-skills-launch.
To book a digital skills session, go to www.youngster.co or call Raymond Terrace Library on 4988 0111.