Smart Parking, Shoal Bay
Project overview
Through ongoing engagement, we've heard that there's an issue with parking and movement in Shoal Bay, especially during the busy holiday periods. Finding a solution is a top priority of residents, visitors and business.
The findings of our engagement was presented to Council and we're pleased to advise that approval to extend Smart Parking to Shoal Bay was provided by Council on 26 July 2022.
The introduction of Smart Parking will not only improve the turn-over of parking spaces providing more equitable access to parking but will also enable the reinvestment of any revenue back into priority projects for Shoal Bay.
The existing resident and business park free permit scheme in Nelson Bay will be extended to Shoal Bay.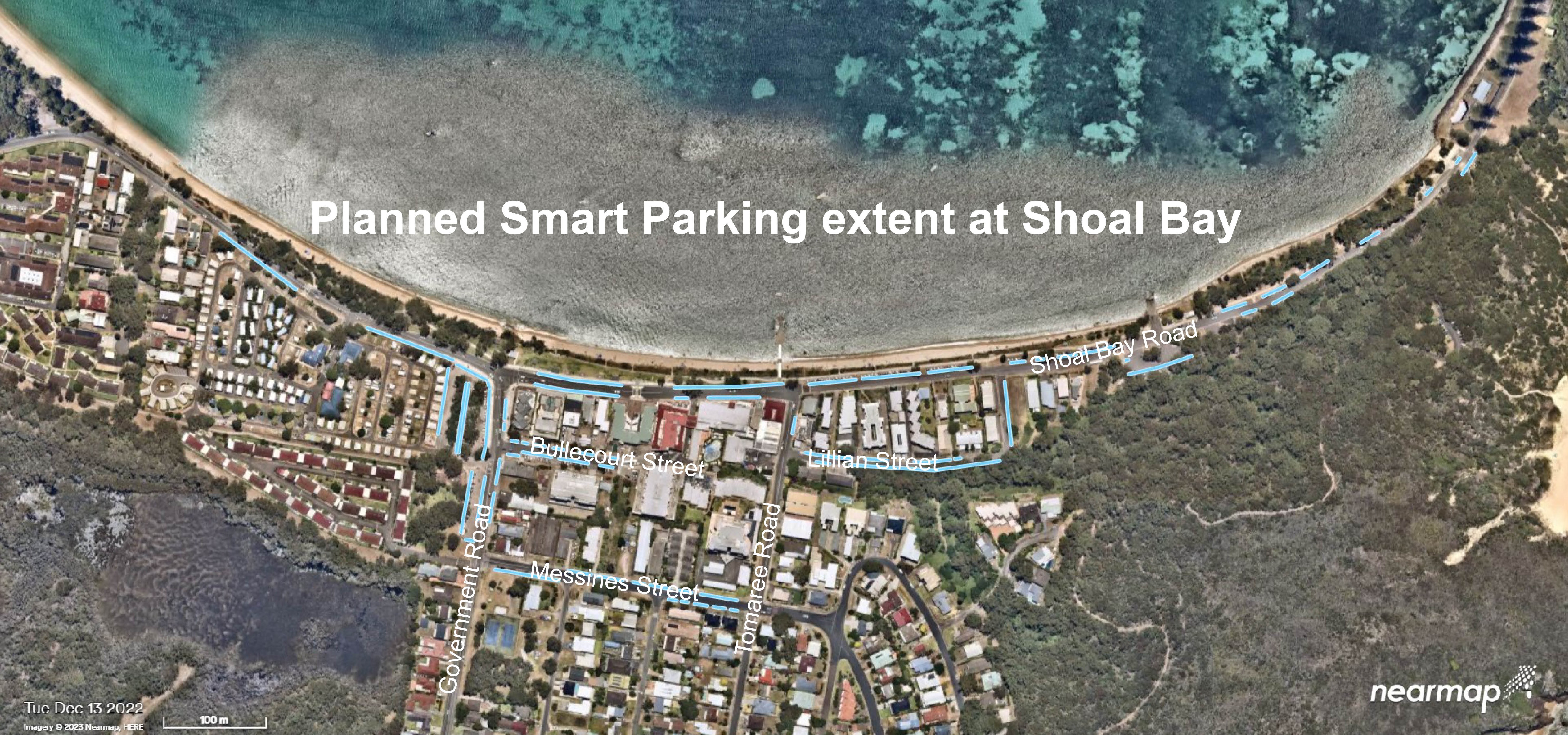 The blue lines in the map above represent planned smart parking areas.
FAQs
Smart Parking was first introduced to Port Stephens at Nelson Bay town centre. We're now ready to extend this to Shoal Bay, including the 'residents park free scheme'.
We expect that by introducing Smart Parking, there'll be approximately 550 paid car parking spots in Shoal Bay. It'll be self-funded, meaning the initial revenue raised will pay for the installation of parking sensors, meters and line marking.
Once installation is paid for, all revenue will be re-invested into future priority projects in Shoal Bay.
The following locations are included in the roll out of Smart Parking in Shoal Bay. There'll be variable time limits, depending on the location:
Shoal Bay Road
Messines Street
Government Road
Small section of Tomaree Road
Bullecourt Street
Lillian Street
Like we've done in Nelson Bay, we'll work with the community to identify dedicated business permit parking areas. If you hold a business permit, you'll be able to park longer than the sign posted limit. These areas are usually located a short way from key business locations, making sure customers get priority.
We want to work with you to decide where the business parking should be located. To have your say, complete the survey and select your preferred areas.
The revenue raised from the installation of Smart Parking will help fund future projects. These projects include events and activation, improving our pathway network and park areas and upgrades to car parks and local roads – including the introduction of a one way option in the Shoal Bay town centre. You can have your say on what future projects you think should be funded first – complete the survey and select your priorities.
There is also an ongoing budget out of Smart Parking revenue allocated to events and place activation projects.
Please note when funding for these future projects is available we will back with further consultation opportunities for these projects.