Road closures and disruptions
Find out what roads are closed for maintenance in the Port Stephens area.
Project road closures and maintenance
The NSW Government is starting works on the southern portion of the project - from the end of the M1 Motorway in the south to the Hunter Regional Botanic Gardens in the north.
Transport for NSW (TfNSW) will deliver the work, which includes road resurfacing and line marking to provide a stronger, longer lasting and safer road.
Details:
Tarro, Hexam, Tomago
Tuesday 11 April 2023 - Saturday 30 September 2023
Weekdays 7:00 am - 6:00 pm
Saturday 8:00 am - 1:00 pm
Day work
There will be speed reductions and short stoppages while TfNSW performs this work. All work will be managed under traffic control, and we ask motorists to allow extra travel time, follow all directions of traffic controllers and be patient.
13 June 2023:
Transport for NSW will start activities to establish an additional site office and associated buildings from Monday 19 June 2023. This is the site establishment for the delivery of the Heatherbrae Bypass project. Work is expected to take about two months to complete, weather permitting.
The site office will be located at 2212 Pacific Highway, Heatherbrae adjacent to Bunnings with access via the Pacific Highway. These offices will consist of the use of existing office buildings, delivery and installation of additional temporary office buildings, staff amenities, car parking, and material laydown areas.
Works to construct the site office will occur within approved working hours between 7am and 6pm from Monday to Friday and 8am and 5pm on Saturdays.Please view the Heatherbrae Bypass notification for more information.
For the latest traffic updates, call 132 701, visit
livetraffic.com
or check the Live Traffic App.
For full details on traffic changes and how this section of work may affect you view the full Transport for NSW update.
As part of the Fly Point to Halifax shared pathway works, there'll be intermittent road closures along Victoria Parade with detours in place and a detour for pedestrians through Fly Point Park. Please follow traffic control directions.
Thursday, 7 September - overnight works for kerb works to cure and set. For more information about these works, visit the project page.
Traffic control will be in place during the works with Sturgeon Street to be closed to general traffic for a large duration of the works from mid-June into August.
Access will be maintained for essential services (such as emergency services, post and garbage collection), resident access and church services. Residents are asked to follow directions of traffic controllers for their own safety.
To learn more about this project and keep updated, please go to the project page pscouncil.info/sturgeon-st-raymond-terrace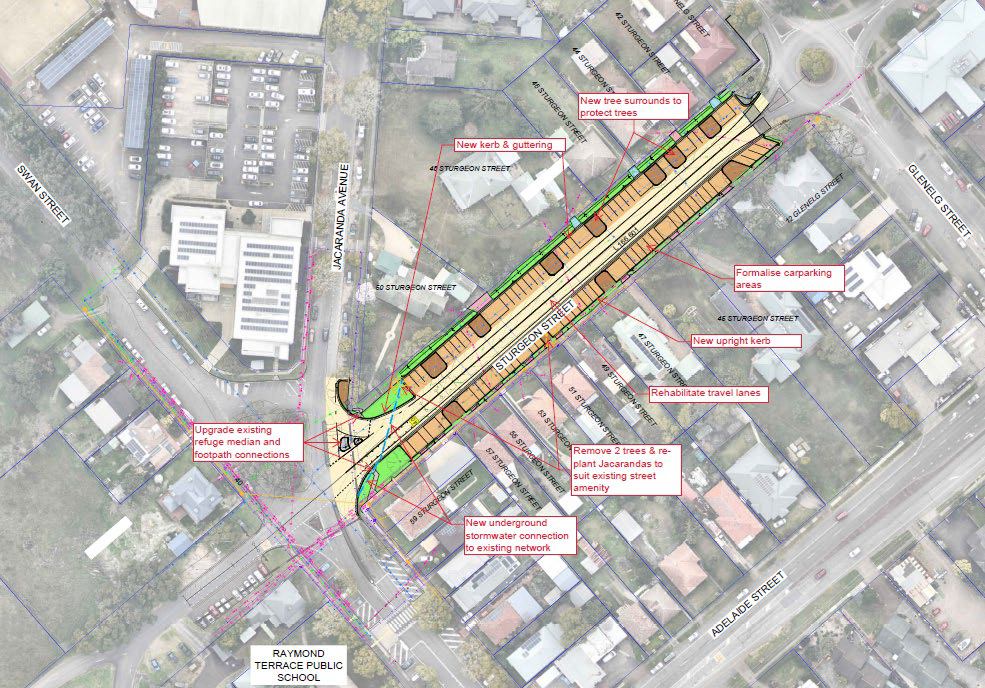 Important road works information
For emergency closures, please visit our Disaster Dashboard.
How will night works affect you?
Road works involve the use of noise generating machinery. We make every effort to minimise noise by completing noisier activities earlier in the night and turn off machinery and vehicles when they are not in use.
Traffic changes
There can be temporary traffic changes to make sure that our work zones are safe.
Lane closures and a 40km/h speed limits are in place during work hours which may affect your travel times.
We ask that you please keep to speed limits and follow the direction of any traffic controllers and signs.
Live Traffic
For the latest traffic updates, you can call 132 701, visit Live Traffic NSW or download the Live Traffic NSW App.