Lemon Tree Passage Road, Tanilba Bay
| Expected start month | Expected completion month | Status | Budget | Contribution |
| --- | --- | --- | --- | --- |
| August 2023 | November 2023 | Scheduled | $1,490,000 | |
The Project is 100% funded by a State Safer Roads Funding Grant.
Pavement reconstruction, asphalt surfacing replacement, road widening and safety barrier installation.
Project Background
Lemon Tree Passage Road is a two lane, two way road which is the single road access for the communities of Oyster Cove, Tanilba Bay, Mallabula and Lemon Tree Passage with a high traffic volume for a narrow high speed road.
A high concentration of head on and run off road crashes have occurred on this length of road. The narrow shoulder with deep table drains and concentration of major tidal culverts have been a long term contributing factor to crash severity.
The speed limit had previously been reduced from 100kmh to 90kmh.
Fatigue has been a factor in some crashes, the long section of road on the Tilligerry Peninsula has limited changing features and as the only access, complacency will always be a factor in this environment.
Lemon Tree Passage Road has been previously upgraded from Nelson Bay Road to the southern west side of Michael Drive. Safer Roads/High speed curve funding had been granted for the section to the east of this site in 2018/19.
Project Aims and Objectives
Improve the condition of the existing road infrastructure to improve safety for road users
Improve travel lanes and shoulder widths
Improve road pavement base and asphalt surfacing
Project Scope
Shoulder widening
Pavement upgrade
Guardrail safety barriers
Install audible linemarking at edge and centre lines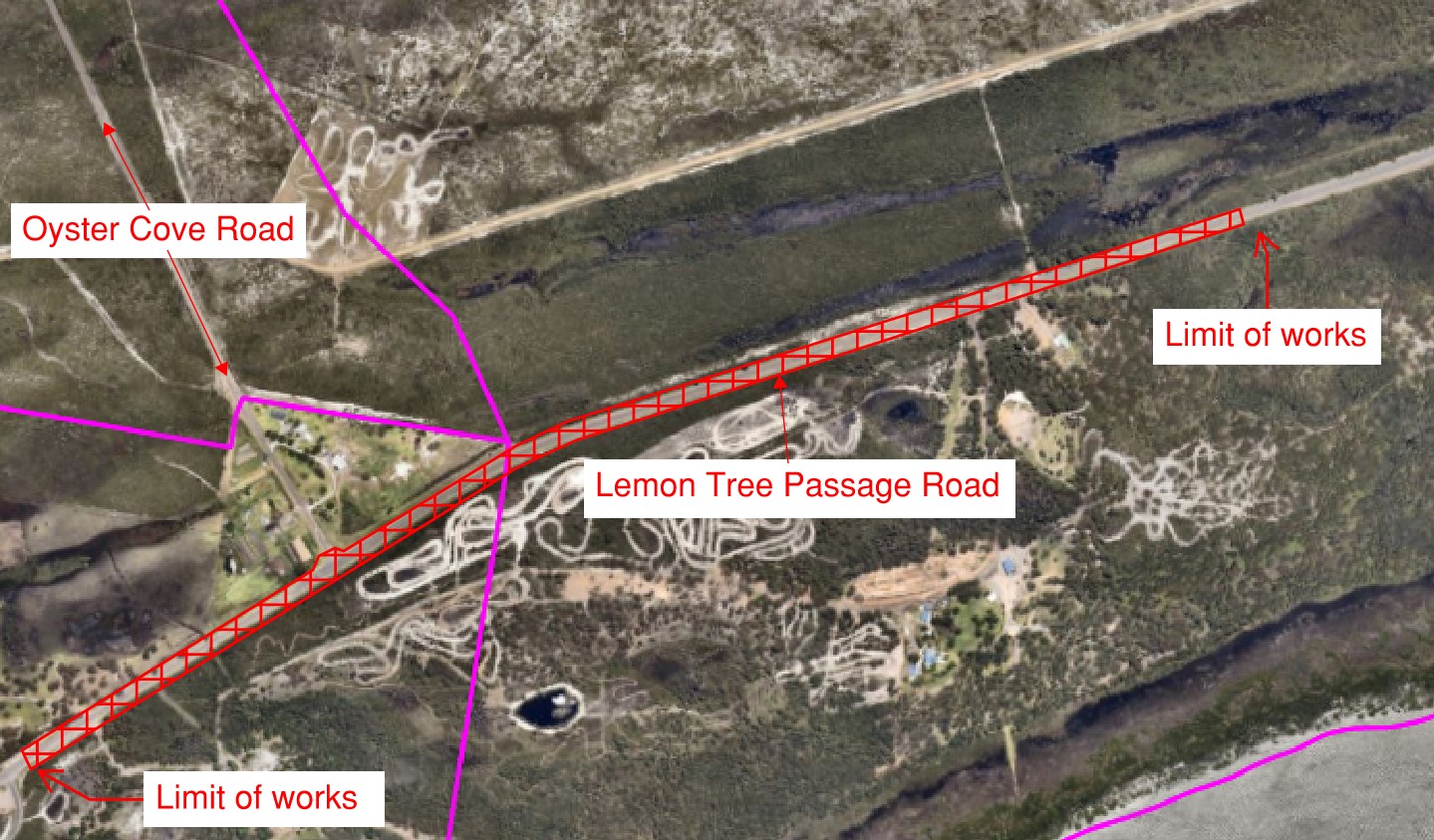 Project Update
25 September 2023
Pavement base material is being placed this week. The stormwater culverts have installed with the construction of a concrete footing to allow for the guard rail has also commenced.
The good news is the crew is ahead of schedule and anticipates the project should be delivered sooner than planned. This is subject to continued warm weather and minimal rain.