Road closures
Nelson Bay
Gan Gan Road, between Frost Road and Nelson Bay Road
Scheduled to begin from 3 September 2018 for a period of approximately 6-8 weeks ending approximately 15 November 2018. Traffic travelling to or from Nelson Bay will be detoured along Frost Road and Nelson Bay Road. Read more about the Gan Gan Road works.
We understand that these projects may impact your travel arrangements during this period and we regret any inconvenience. Your cooperation is very much appreciated and will help Council provide you with a better road. For inquiries during the works, please contact Council on (02) 4988 0255.
Raymond Terrace
Hunter Street, Raymond Terrace will be closed to traffic for the Raymond Terrace Aquatic Club Powerboat Spectacular on Saturday, 13 October 2018. The closure will be in place between Swan Street and Glenelg Street, from 7am until 5pm.
Karuah
Barclay Street, Karuah will be closed to traffic between the RSL Club entrance and Longworth Park, for the Karuah Timber and Oyster Festival. The closure will be in place between 6am and 5pm on Saturday 20 October 2018.
Further enquiries may be made by contacting the event organiser on 0417 457652 or Council's Engineering Services Section on phone (02) 4980 0255.
---
Current maintenance
View the list of current maintenance and construction work happening in Port Stephens.
---
Live Traffic
Use Live Traffic NSW for the most up to date traveller information and personalised alerts for NSW roads.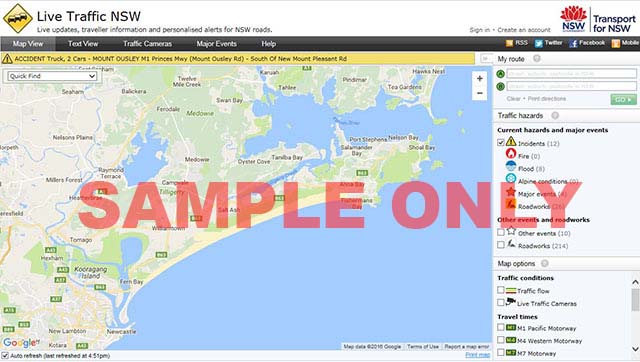 Real-time road apps
Roads and Maritime Services provides a number of real-time apps for every driver. Pick and download the best app for you to plan your journey and steer clear of congestion.