Water Wandering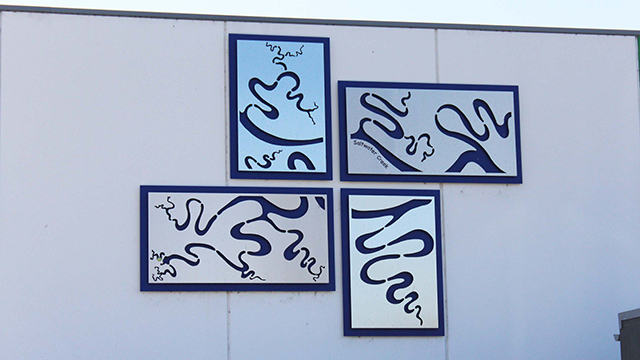 Water Wandering is by artist Braddon Snape on the Woolworths in Medowie. It was completed as a requirement of the development consent for the new shopping centre at Medowie.
At first glance the landscape of the Medowie area is best described as flat and mundane, however when one takes an alternative point (an aerial viewpoint) our perception of the landscape changes. In response to this revelation this concept derives from, and is an interpretation of the snaking Saltwater Creek tributary system that feeds the wetland area to the East of the Medowie township. In fact Medowie is surrounded by a largely unnoticed tributary system that is crucial to the wetland ecosystem of the Medowie / Port Stephens region.
Location
Located on the exterior wall of the Woolworths on Ferodale Road in Medowie.
Contact Port Stephens
Read the Port Stephens Cultural Plan or the Public Art Policy and Guidelines on our Policies page. For more information or to discuss possible public art projects please contact the Community Development and Engagement Team.