About the Special Rate Variation
Council has worked with the community through a number of rate increase options with a reduced independent recommendation scenario being put forward in our application to IPART.
On 15 June 2023 IPART announced Council was successful in its application for a 9.5% rate increase per year for 3 years.
Special Rate Variation (SRV) Factsheet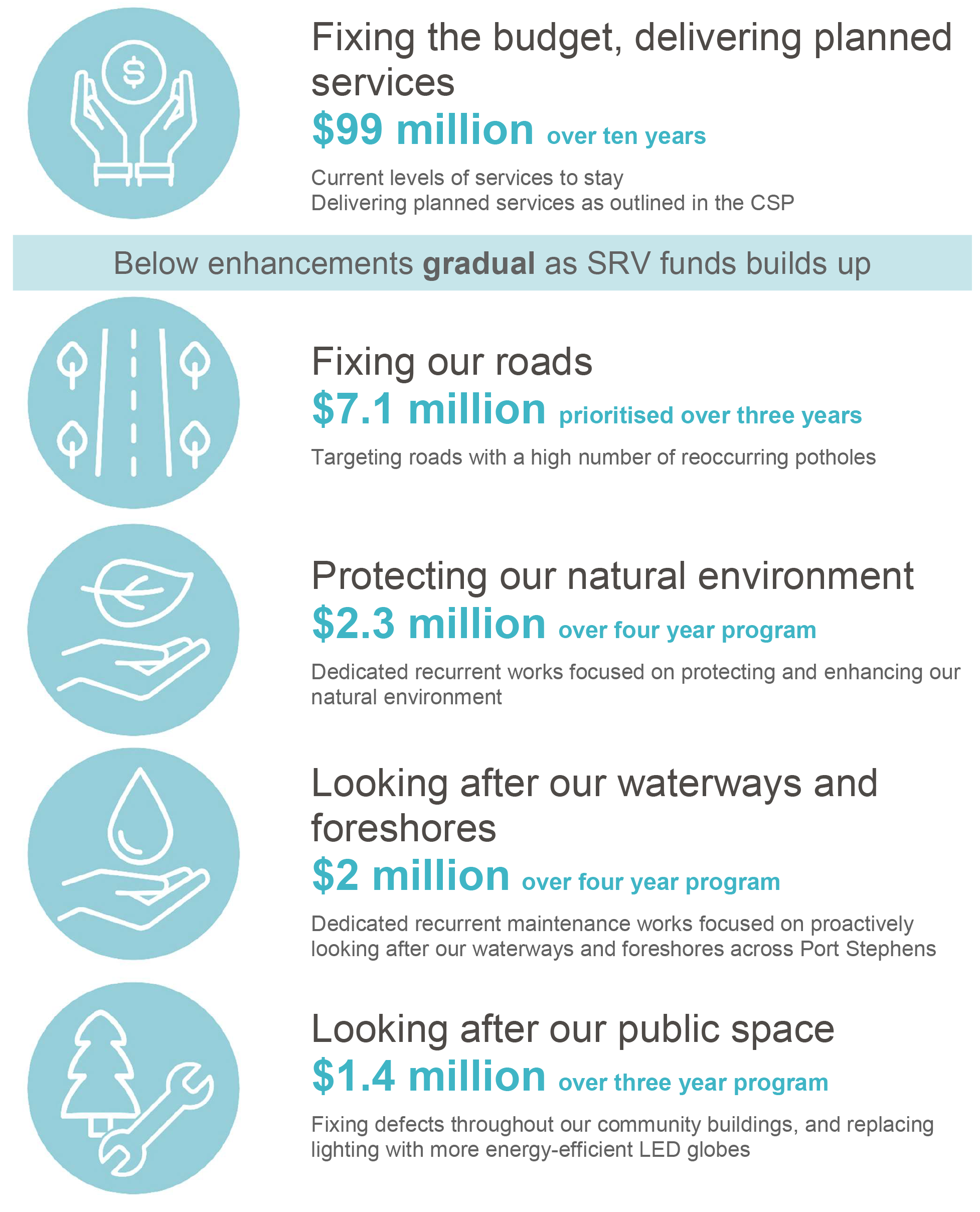 As part of the Special Rate Variation being approved Council has increased the assistance available under the Rates Assistance Program.
Assistance of up to $500 may be available to individuals or families who do not already receive a Council pensioner rate concession. Assistance of up to $250 may be available for pensioners on top of their $250 pensioner rate concession.
For further information and assistance, visit financial assistance for paying rates
To contact Council about your situation, you can:
As part of Council's engagement and application to IPART for a Special Rate Variation, Council adopted the Integrated Planning and Reporting (IP&R) revised for a Special Rate Variation documents after being on public exhibition for 28 days. These plans outline the need and purpose for a special rate variation and how the funds would be spent if a rate rise was approved.
Council revises its IP&R documents annually see here the current version that includes details about the approved SRV.
The rate cap figure for the 2023-2024 financial year has been announced by IPART (Independent Productivity and Regulatory Tribunal). It's been set at 3.7% and Port Stephens has been recognised as a population growth area and can apply an additional 0.7% – taking the total rate increase to 4.4%.
Even though the rate cap for 2023-2024 is slightly higher than the budgeted 2.5%, it doesn't meet the current and anticipated inflation rates and Council would still be facing a forecasted shortfall of over $80 million over the next 10 years without an approved SRV. IPART have also indicated that Councils should continue to forecast rate capping increases of only 2.5%.
The approved SRV of 9.5% includes the rate cap. Meaning, for the 2023-2024 financial year the rate cap component is 4.4% and the special rate component is 5.1%. For years 2 and 3 of the SRV, the 9.5% will also include the rate cap.