Raymond Terrace and Heatherbrae Strategy
The Raymond Terrace and Heatherbrae Strategy was adopted by Council on the 24 November 2015. The Strategy contains four goals, and a Public Domain Plan, to achieve the future vision of Raymond Terrace and Heatherbrae. Each of these goals are provided with strategic directions that are linked to tangible actions that will be implemented within the life of this strategy.
The vision for Raymond Terrace is;
a strong major regional centre and a great place to live, work and play.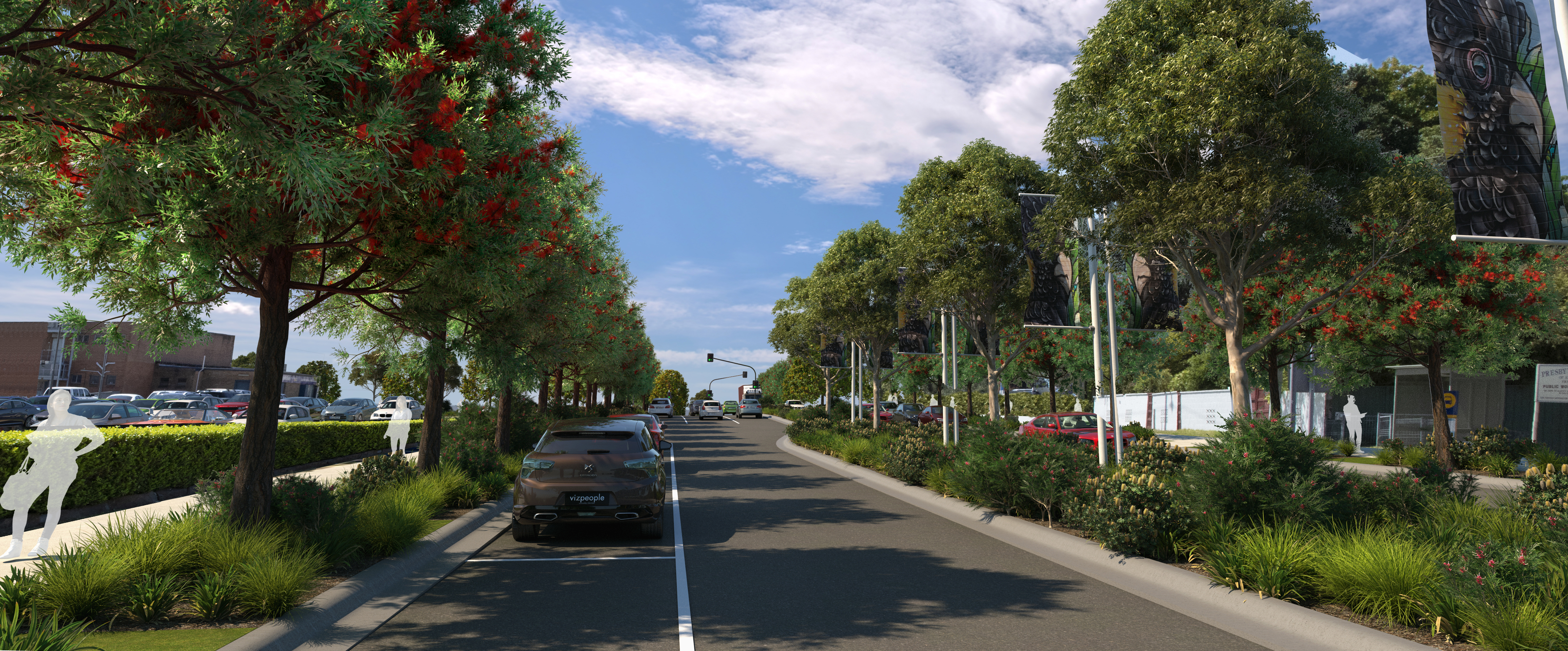 We have developed a Public Domain Plan (PDP) for the Raymond Terrace town centre. This vision for the town centre includes improvement works to William Street, along with other central areas in Raymond Terrace.
The PDP has been in part informed by community feedback and ideas collected through the community engagement project phase conducted from February to March 2020.
Goal 1
A competitive economy with regional services, including transport, health, justice, government, commercial, retail, industrial and entertainment
Actions
1. Monitor the supply of B3 Commercial Core and IN2 Light Industrial zoned lands in Raymond Terrace
2. Rezone 4.5ha of land on the western side of the Pacific Highway to B5 Business Development to facilitate Heatherbrae as a 'key destination for bulky goods'
3. Promote catalyst sites for commercial development to underpin William Street as the main street of activity
Actions
4. Identify 'missing road links' in Raymond Terrace and Heatherbrae
5. Finalise the construction and maintenance of the multi-transport hub at 'The Close'
6. Update and implement the Raymond Terrace Pedestrian & Cycle Strategy. Complete priority links and advocate for connections to the wider network, such as from Raymond Terrace to Newcastle and Maitland
7. Support future proposals for increased public transport from Port Stephens
8. Advocate for the southern interchange of the Heatherbrae Pacific Highway to provide northern access to Heatherbrae
9. Undertake a detailed traffic analysis/management plan to determine the future traffic environment of Heatherbrae and identify opportunities for improved accessibility to support additional lands for bulky goods premises
10. Address the informal access arrangements that have been created over 'community land', as defined under the Local Government Act 1993, for businesses with direct access to the Pacific Highway
11. Consolidate the identified portions of roads within Riverside Park and the Raymond Terrace Trotting Track into the adjoining Crown Land Reserves
Actions
12. Advocate for Raymond Terrace amongst major institutions, such as the University of Newcastle, about the availability of affordable land and key catalyst sites both in Council and in private ownership.
13. Recognise the role in providing services to those smaller surrounding centres, such as Medowie, Dungog, Kings Hill and Salt Ash through providing a more detailed audit of community services.
Actions
14. Develop an economic/commercial strategy/prospectus that promotes land availability and its development potential