Pumphouse Mural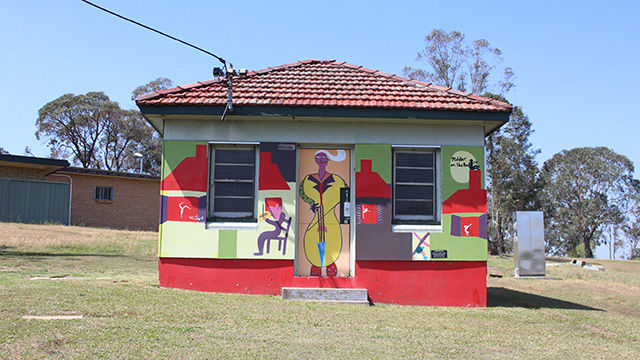 This captivating mural spans across three walls of the old pumphouse in Boomerang Park, and was painted by students from Irrawang Highschool through Council's Cultural Projects Funds.
The mural depicts the cultural activities and diversity of Raymond Terrace. The theme involves silhouettes of figures with cultural symbols rich in meaning for different groups in our area. The figures are linked in a way so that they lead to a musical event taking place on the front of the building, symbolising all cultures linking together in a mutual bond leading towards music, art and enlightenment.
Location
Boomerang Park in Raymond Terrace (can be viewed from the road along Irrawang Street).
Contact Port Stephens
Read the Port Stephens Cultural Plan or the Public Art Policy and Guidelines on our Policies page. For more information or to discuss possible public art projects please contact the Community Development and Engagement Team.