Botanica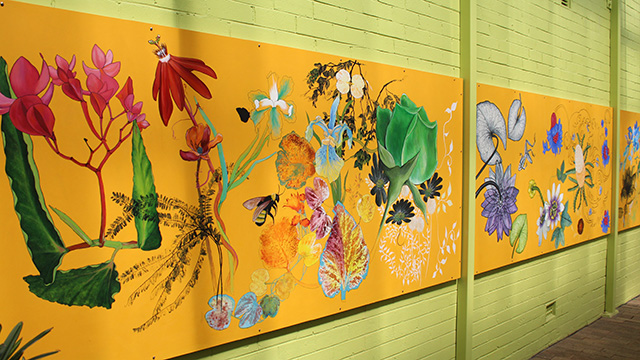 Marvel at the colours of Botanica that reflect the personalities of those who created it. We also challenge you to spot the creatures that lay embedded in the art work.
Botanica, a series of panels, was the first community public art piece in Port Stephens. It started with a vision to bring colour and enjoyment to the Raymond Terrace community, and succeeded in a unique Port Stephens Council partnership between a local commissioned art director, Debra Liel Brown and long standing Raymond Terrace business owner, George Prosczkowiec.
Funded by Council, it has been conceived by local people volunteering their talents to create their own piece of natural beauty. Each artist's individual contribution has been cleverly tied together to form a public mural that recognises and celebrates the various artistic styles.
When I tell people that I live in Raymond Terrace, the response is often negative, which I think is unfounded. So, I wanted this mural to reflect the creative and cheerful nature of Raymond Terrace locals.

My goal for the mural was to create an uplifting, feel-good experience for visitors who come to do their shopping. I wanted the artwork to be both beautiful and fun, especially for kids.

I want to thank the talented local artists who have volunteered to join me in this project. We enjoyed painting it and we hope you enjoy it too.
Debra Liel-Brown
This project is the first of many improvements to Port Stephens' public places, not just with murals but by making places for people to be able to enjoy and reflect through creative art, sculpture or furniture. This arcade is an example of how a space can be transformed with the involvement and passion of local artists with support from Council.
Downloads
Location
Jewellery shop arcade, 28 William St, Raymond Terrace. Open 8.30 to 5.30 Mon to Fri, 8.30 to 2pm Saturdays.
Proudly supported by Terrace Showcase Jewellers, Lear and Smith, Derivan Paints Raymond Terrace and Port Stephens Council.
Contact Port Stephens
Read the Port Stephens Cultural Plan or the Public Art Policy and Guidelines on our Policies page. For more information or to discuss possible public art projects please contact the Community Development and Engagement Team.