Port Stephens Council provides businesses with a number of options to advertise their services in Port Stephens.
Bus shelter advertising
Get your business noticed by advertising on Council owned bus shelters. There are 2-3 panels per bus shelter that are available to advertise on.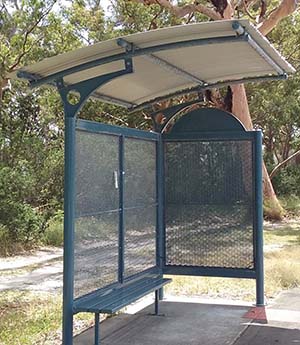 Bus Shelter Advertising Fees are calculated on a pro-rata system and discounted rates are applied if 3 + panels are leased on a single application form. The Fees and Charges for 2019/2020 are:
Platinum panel per month: $105.00 (1-2 panels)
Premium panel per month: $90.00 (1-2 panels)
Economy panel per month $75.00 (1-2 panels)
Platinum panel per month: $95.00 (3 + panels)
Premium panel per month: $80.00 (3 + panels)
Economy panel per month $67.50 (3 + panels)
Bus Shelter Advertising Installation: $320.00 (per sign)
This is a great opportunity to advertise your business in a high traffic area (both pedestrian and vehicular).
Alternatively contact Council to discuss bus shelter advertising.
Contact Details
Civil Assets
Phone: (02) 4980 0322
Email: council@portstephens.nsw.gov.au
Temporary footpath advertising
On Tuesday 14 February 2017 it was resolved that Port Stephens Council rescind all fees and charges relating to Outdoor Dining Licences, however Businesses still require Council approval.
Temporary structures are a welcome addition to any business and are a great way to advertise daily specials or just to let people know you're open. A temporary structure includes: A-frame sandwich boards, clothing racks or displaying items for sale outside your business.
Did you know approval must be obtained from Council to place a temporary structure on the footpath as this is Council land? (This application excludes tables and chairs, please see – Footway dining).
The use of temporary structures on the footway provides commercial retailers with an opportunity to integrate commercial activities into the pedestrian area. This will increase exposure of specific commercial activities to provide the opportunity for increasing business.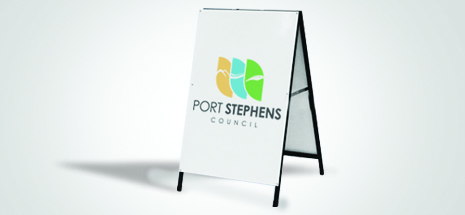 A Temporary Structure Application Form must be submitted to Council with the required supporting documentation to ensure safety requirements are met and regulate the impact on pedestrians and road-users in order to keep businesses and their patrons safe.
Once your application is approved by our Civil Assets Engineer, a licence sticker will be issued for Council Rangers to identify temporary structure approval.
Alternatively contact Council to discuss temporary structures.
Contact Details
Civil Assets
Phone: (02) 4980 0322
Email: council@portstephens.nsw.gov.au