Programs, Activities and Events
The Library holds a range of regular programs, activities and events for adults and children including storytimes, book clubs, movie screenings, guest speakers, school holiday programs and special events.
If you would like more information on any of our programs, activities or events please contact the Library.
Would you like to receive an email notification of upcoming special activities or events? Email your request to join our distribution list.
May Gibbs - Australia's most famous babies visit Tomaree Library & Community Centre
1 - 15 December 2017
It's 100 years since May Gibbs' adorable characters found their way into the homes and hearts of Australians, and we are celebrating with a free travelling display featuring May Gibbs' iconic artwork.
May Gibbs was Australia's first full-time, professionally trained children's book author and illustrator, and the display features reproductions of some of her most beloved characters including the gumnut babies and the brothers Snugglepot and Cuddlepie.
According to State Library of NSW Senior Curator Alison Wishart: "Generations of Australians have fond memories of growing up with the gumnut babies and their friends, and passed the books they read as children down to their own children."
The gumnut babies became an instant hit when they first appeared on 5 December 1916 in a booklet published by Angus & Robertson, and the gum-blossom babies soon followed.
The display explores May Gibbs' early work, the characters of Snugglepot and Cuddlepie, Ragged Blossom and Little Obelia, her process and examples of how the war influenced her work.
"May Gibbs was a keen environmentalist and was also fiercely patriotic", Ms Wishart said. "Not many people know that during the First World War she designed a series of postcards and bookmarks featuring her popular characters to send to the soldiers overseas."
The display can be viewed at Tomaree Library & Community Centre during library hours.
Storytime and Craft
A weekly program providing an introduction to the magic of books and reading for children ages 2-5. The cost is $1.40 per child which includes craft materials. Storytime and Craft commences at 10.30am and is held at Tomaree Library every Tuesday and at Raymond Terrace Library every Thursday (except during the month of January).
Read and Rhyme
A weekly program providing an introduction to books, music and rhymes for carers and their babies ages 0-2. This program is free of charge and is held every Wednesday at 10.30am at Tomaree Library (except during school holidays) and Raymond Terrace Library (except during the month of January).
Author Visits, Speakers Circuit and Movie Screenings
Join library staff to celebrate the release of a new book, enjoy the tales of a guest speaker, attend a movie screening or just to have fun exploring the delights of your library. Go to Council's Event Calendar for more detailed information.
Raymond Terrace Library Movie Club
Are you a movie buff with discerning taste and an interest in thought-provoking films? Then the Raymond Terrace Library Movie Club may just be what you are looking for. Our Free Movie Club screens handpicked quality films from the National Film and Sound Archive. After the film join us for a discussion over tea, coffee and biscuits. Finish time will depend on film length and discussion. If you would like notification of upcoming films email your request to join our distribution list
Book Discussion Groups
The library holds monthly book discussions at Tomaree and Raymond Terrace Library. All discussions are held on the first Friday of each month, are free and open to all adults. Tomaree Library at 10.30am, 11.30am and 2.30pm. Raymond Terrace at 10.30am.
Tomaree Library also holds a free Monthly Kids' Book Chat on the first Tuesday of each month commencing at 4.30pm. This is suitable for children aged 11 plus.
Stories in the Street
A free Literacy program for children 0-5 years in Raymond Terrace and Medowie.
We will visit your home (excluding school holidays and rainy days), read to your children, provide craft stencils, song sheets and leave a selection of books that can be exchanged each week.
For further details or to become a literacy volunteer phone Melissa on 0427 188 755 or email Melissa.
Art Exhibitions
Visit the Raymond Terrace Art Space to view monthly exhibitions by talented local artists.
Current Exhibition November 2017
Interested in showcasing your work? Email the Art Space Team.
Food for fines 2017
Donate non-perishable food or toiletries in lieu of payment of overdue library charges this November and December 2017.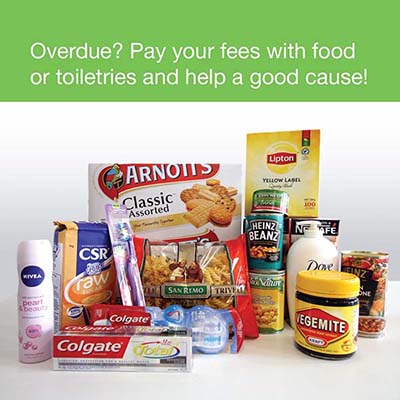 Food and toiletries will be donated to Emergency Relief Agencies who provide meals and Christmas hampers to local families in need of extra support this festive season. Simply take your items to Raymond Terrace, Mobile or Tomaree libraries.
$5.00 for every non perishable food item and $10.00 for every toiletry item donated will be cleared from library members overdue fees record.
There is no limit to the amount of overdue charges you can pay off, however donated items will only be used to clear overdue charges.
The campaign will run until 11 December 2017.