Making business growth easier
Publish Date 26/09/2019
Small businesses will have the opportunity to boost their digital skills and future-proof their business plans as part of Port Stephens Council's Small Business Month program this October.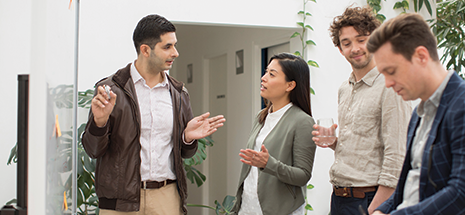 A NSW Government initiative, Small Business Month is an opportunity to promote and celebrate the success of small and medium sized businesses and the critical role they play in local communities.
Mayor Ryan Palmer says Council is proud to deliver a rich program of workshops and events.
"There are over 4700 small business operating in Port Stephens. We're committed to making business growth easier for this valuable sector of our local economy.
"Whether you already have a business or you're an aspiring entrepreneur, our Small Business Month program is designed to help grow and strengthen local businesses.
"We have workshops on setting up your business, free advice with the Business Connect Bus and internationally renowned speaker Michael McQueen on how to bullet-proof your business in turbulent times," Mayor Palmer said.
"There's also informative presentations on business opportunities by the NSW Government, Destination NSW, Hunter Futurepreneurs and Ai Group.
"Small Business Month is all about celebrating the critical role small business plays in our economy. It's also a great opportunity for owners and operators to gain support, be inspired and connect with one another," Mayor Palmer said
"It's all part of our focus on making business growth easier in Port Stephens. I encourage all business owners — or anyone thinking of starting a business — to get along to as many events as they can!"