Flood Hazard Maps have been compiled from Council's various flood studies referenced in the Port Stephens Local Environment Plan 2013. The maps are a visual representation of more technical information and are also referred to in the Floodplain Risk Management Policy and Council's Development Control Plan.
Flood liable land is land that is most likely to be inundated by the probable maximum flood (largest flood possible that results from the theoretical maximum precipitation for a given duration under modern meteorological conditions). It is this land area that defines the "floodplain" for a particular catchment. It is recommended that critical infrastructure or vulnerable development (such as hospitals, emergency services, evacuation centres, group homes or seniors' homes) are not located on flood prone land.
In accordance with State Government policy, Council has adopted the 2100 flood event that has a 1% chance of occurring or being exceeded, plus 0.5 metre freeboard as the Flood Planning Level.
The area of flooding below the Flood Planning Level is also categorised in terms of the flood hazard (low hazard and high hazard) and the location (floodway area, flood storage area and flood fringe area). The land above the Flood Planning Level and below the flood prone land extent is described as minimal risk flood prone land.
Definitions of the hazard and hydraulic categories can be found in the Flooding FAQs.
Flood Hazard Mapping index:
Click on the map to view a larger version of the Flood Hazard Mapping Index.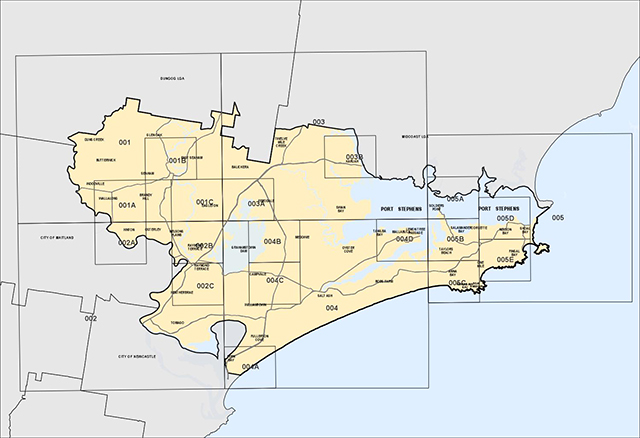 View the Flood Hazard Mapping via the links below.