What's next for Raymond Terrace? New places for people to brighten main street
Publish Date 25/06/2021
New places for people to gather and spend time are on the way for William Street in Raymond Terrace to create a more vibrant town centre and support local businesses.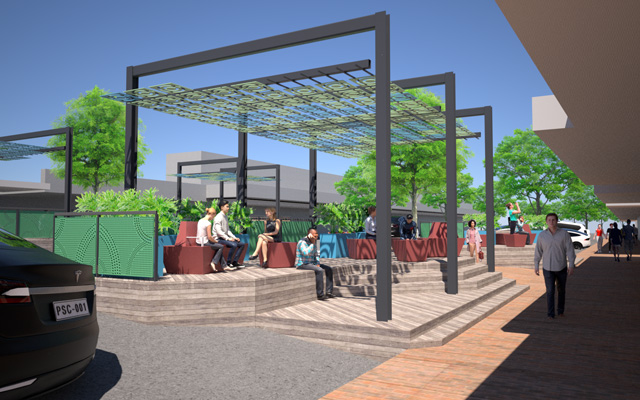 In the first stage of works, Port Stephens Council plans to deliver 3 art-inspired shade structures featuring new seating and greenery underneath, lighting and cameras to improve safety, and improved accessible car parking. The works are thanks to a grant from the NSW Government's Streets as Shared Spaces program.
Deputy Mayor Paul Le Mottee says it's the first stage of more than $1.5 million of works planned for the Raymond Terrace town centre over the next 2 years.
"In 2020, we asked our community about their vision for Raymond Terrace including what they love about the town centre and what could be improved," he said.
"We heard they want more shady spots and street furniture, public art, trees and greenery, and improved lighting and safety.
"These works are all about delivering on our community's vision, which is captured in our award-winning new Public Domain Plan — a long-term plan to revitalise the town centre and create better public spaces.
"With the beautiful river, our Jacaranda-lined streets and a wide array of businesses and services, Raymond Terrace is a great place to spend time and it's about to get even better. These works all about creating places for people to relax, stay a little longer and support our local businesses.
"And this is just the start — we're continuing to work with our community to plan Stage 2 works that will see more of the town centre spruced with things like landscaping, art, shade, seating and safer pedestrian crossing.
"We're also getting to work on extending the footpath along the river levee bank and making improvements to nearby Bettles Park to make the area even more attractive for locals and visitors alike," he said.
There will be some changes to parking as a result of the works including improved accessible parking, moving 5 spaces to nearby sections of William Street and creating an additional parking space. In stage 2 of the works, there is potential to create even more parking spaces along the main street.
Councillor Le Mottee, along with Council's Community Engagement team, have spent the week talking to businesses on William Street.
Ben Robinson of Panthera Group says the works will be an improvement to public spaces in Raymond Terrace.
"Raymond Terrace deserves to be highlighted for its potential. We are pleased to see growth opportunities in our community, which will promote increased visitation and spending in local businesses.
"We're excited to see alignment between our Terrace Central vision and the vision for a revitalised town centre and we welcome the improvements in comfort of public spaces and seating for higher dwell and community experiences in Raymond Terrace."
Bronwyn White is a local resident who participated in the development of the Raymond Terrace Public Domain Plan and she says it's great to see action in the town centre.
"Raymond Terrace is such a lovely community and it's wonderful to see it getting the upgrades it deserves. These works will certainly brighten up the town centre and make it a lot greener.
"The artist's impressions look fantastic. One of the highlights for me is the art-inspired shade structure, which has been designed by a local Aboriginal artist. To see something like that in Raymond Terrace is really exciting.
"I go to Raymond Terrace town centre every day and it will be great to have more spaces to connect with other people. I also see a lot of tourists stopping in Raymond Terrace and there's not really anywhere to sit and eat, so this will be a nice space for people to spend some time as they stop on their travels," she said.
Council is continuing its engagement with the Raymond Terrace business community into July.
Stage 1 works are proposed to start in August with Stage 2 proposed for mid-2022.