Vision for Nelson Bay gets stamp of approval
Publish Date 24/07/2019
Port Stephens Council has tonight endorsed a vision for Nelson Bay which prioritises public spaces, people-friendly spaces and a greener town centre.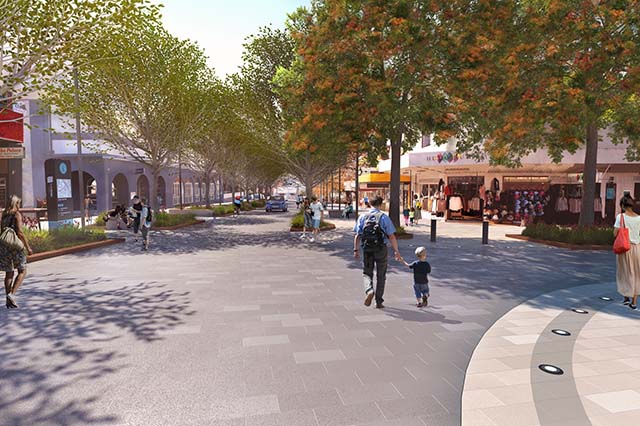 The Nelson Bay Public Domain Plan is a 20 year vision for the town — ensuring it's a place where locals and tourists will want to live, work, play and stay. The plan was co-funded by the NSW Government and was placed on public exhibition for community feedback in February this year.
The decision to endorse the final plan was made at a community Council meeting in Nelson Bay as part of celebrations for the upcoming Local Government Week.
Port Stephens Mayor Ryan Palmer says this is another step in the right direction for Nelson Bay.
"Nelson Bay is a thriving place that is leaping forward into its next chapter — that's the vision this plan has laid out," Mayor Palmer said.
"What we're talking about is more street trees in the town centre and better connections to the foreshore and Tomaree National Park. We also want to create a town centre that is people-friendly for walkers and cyclists, as well as more quality spaces for locals and tourists to enjoy year-round, in turn supporting local business and growing employment opportunities for our region."
Mayor Palmer says more than 60 submissions were received in response to the Public Domain Plan, which were overwhelmingly positive.
"The majority of community feedback we received was very supportive of the plan — in particular, people liked the idea of a greener, more beautiful town centre that's easier to navigate for both locals and tourists.
"Our next challenge is to continue to do whatever we can to fund implementation of the plan. The NSW Government has been a huge support and we'll continue to advocate for more for Nelson Bay. We'll also look at allocating funding as part of our strategy to fast-track priority projects for Port Stephens," Mayor Palmer said.