Twilight markets headline Port's Youth Week celebrations
Publish Date 03/04/2019
Twilight markets, a skate competition and a youth get-together will be highlights of this year's Youth Week celebrations across Port Stephens.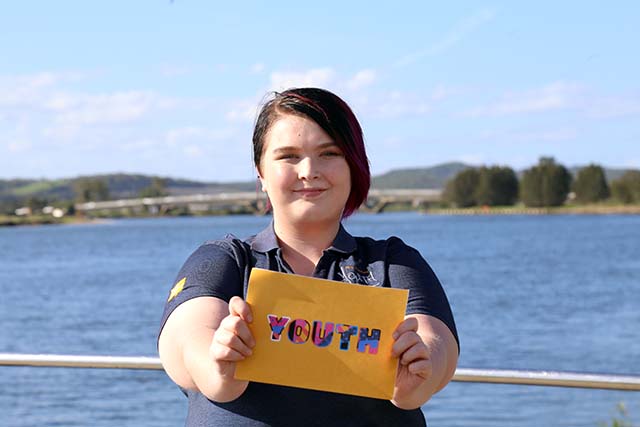 National Youth Week is the largest celebration for young people in Australia. Thousands of youth aged 12 to 25 get together to share ideas, attend live events and celebrate their contribution to our community.
Held from 10 to 18 April 2019, the theme for NSW Youth Week is 'Coming together to Connect, Share, Speak out and Celebrate'.
Mahaylia Soars, Youth Advisory Panel member, says the Port Stephens 2019 program is designed to showcase the innovation and skills of our young people.
"This year, we're kicking off Youth Week celebrations early with our Twilight Markets in Raymond Terrace on Tuesday 9 April. It's a fun night out with food, music and markets featuring the talents of local young people - from visual artists to web designers. There'll also be creative workshops on digital media, sticker art and zine production.
"TYCA will be holding its annual Skate and Scooter competition at Nelson Bay Skate Park, while the Snak and Rap youth celebration will be at Mallabula Skate Park. Wherever you are in Port Stephens, there's an event near you!
"The Youth Advisory Panel has played a central role in developing this year's program, which is all about showcasing the skills of local young people and encouraging them to be innovative," Ms Soars said.
Amber Herrmann, Council's Community Development and Engagement Coordinator, says Youth Week is an important event on the Port Stephens calendar.
"Port Stephens Council and our Youth Advisory Panel are proud to support Youth Week - it's a great opportunity for young people across Port Stephens to come together, have a good time and celebrate their contribution to the community."
"Our Youth Advisory Panel do a great job of making sure the voices of young people in Port Stephens are heard. They share ideas and issues affecting youth with Council, and help to develop plans and activities for young people in our region.
"It's a great way for young people to build their confidence to speak up about issues that affect them," Ms Herrmann said.
Port Stephens Youth Week events:
Twilight Markets
When: 4to 8pm, Tuesday 9 April 2019
Where: WEA Alesco, corner William and Port Stephens streets, Raymond Terrace.
Details: Enjoy an evening of fun, food, music, creative workshops and markets showcasing the works of local young people.
Skate and Scooter Competition - presented by TYCA
When: 9am to 3pm, Sunday 14 April 2019
Where: Nelson Bay Skate Park, 145 Shoal Bay Road, Nelson Bay
Details: Come along and watch the youth of Port Stephens as they display their skills and talents or participate in this year's competition. All ages and abilities welcome, various divisions. Come along and enjoy a day of social inclusion, fun activities, market stalls, demonstrations, giveaways and the opportunity to showcase your skate and scooter skills.
Snak N Rap - presented by Up & Up
When: 10am to 1pm, Wednesday 17 April 2019
Where: Mallabula Skate Park, 1195 Lemon Tree Passage Road, Lemon Tree Passage
Details: Snak N Rap is a chance for Port Stephens youth to hang out for a few hours, enjoy some music, a bite to eat, conversations and fun in a safe, welcoming environment.
Find out more about Youth in Port Stephens.