Thou Walla Sunset Retreat and Fingal Bay Holiday Park shine at NSW Tourism Awards
Publish Date 22/11/2017
Port Stephens Council-owned holiday parks, Thou Walla Sunset Retreat and Fingal Bay Holiday Park, have both taken home Silver at the 2017 NSW Tourism Awards.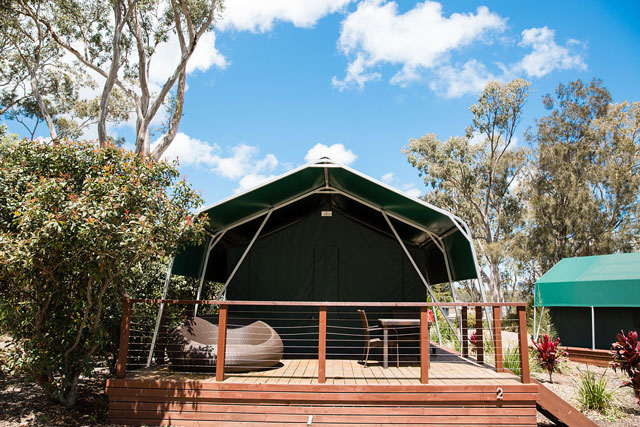 Thou Walla Sunset Retreat in Soldiers Point took home Silver for the second consecutive year in the 'Unique Accommodation' category for its sunset-view 'glamping' tents, coming in behind Taronga Western Plains Zoo. Fingal Bay Holiday Park took out Silver in the 'Caravan & Holiday Parks' category against five strong finalists.
Kim Latham, Port Stephens Council's Holiday Parks Operations Manager, says the awards are a wonderful recognition of the hard work put in by all holiday parks staff.
"It's an honour to be recognised at state level and it shows that our holiday parks stack up against our industry peers," Ms Latham said.
"Winning these awards is a great encouragement for everyone involved in the parks from the ground level up to higher management. It means we are doing things right and can continue to enhance our guests experience each time they stay with us," she said.
"Fingal Bay Holiday Park has recently added some great additions including a state of the art amenities block, while our glamping tents at Thou Walla continue to be a popular way for couples to unwind and enjoy a peaceful break in beautiful Soldiers Point," she said.
Ms Latham attributes the wins to team work, planning and leadership.
"Over the past year we have had great success in many areas, which has been backed up with glowing guest reviews and comments across social media and personally to our park staff.
"These positive results have been due to strong leadership, planning and team communication, as well as regular reviews of our properties to ensure we continue to be amongst the leaders of the industry," Ms Latham said.
Both holiday parks are now preparing for the busy summer holiday season in Port Stephens.
For more information about Thou Walla, visit www.twsr.com.au or call 1800 600 204.
For more information about Fingal Bay Holiday Park, visit www.fingalbayholidaypark.com.au or call 1800 600 203.