Raymond Terrace Library installs 'Share the Dignity' vending machine to provide free period packs
Publish Date 29/06/2021
Free Share the Dignity period packs are now available at the press of a button to provide sanitary items and reduce period poverty for those in need in our community.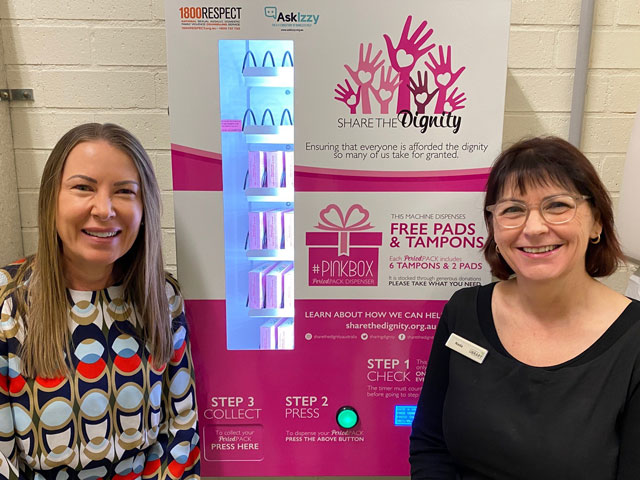 Raymond Terrace Library is the first Share the Dignity vending machine in the region, dispensing packs of 6 tampons and 2 pads to ensure people have access to basic sanitary items during their menstrual cycle.
Port Stephens Council Library Services Manager Kris Abbott is proud to bring the Share the Dignity initiative to Port Stephens.
"We know that there are people across Australia and our community that struggle to afford menstrual products each month.
"[People] shouldn't have to choose between purchasing food for their family or buying sanitary products and using something else as a substitute.
"The Share the Dignity program is one way we can support our community and provide access to safe and hygienic menstrual products," she said.
The vending machine is located in the Raymond Terrace Library women's toilet and can be used by pressing the green button. There is a 10-minute delay between dispensing packs to help prevent misuse.
Share the Dignity is a national charity working to end period poverty in Australia for more information to donate visit: https://www.sharethedignity.org.au/
You can also support through the Woolworths Share the Dignity drive which donates 5 cents from every pads, liners and tampons sale this August to help install and maintain more vending machines.