New Soldiers Point revetment wall protects coastline and improves accessibility
Publish Date 17/06/2021
The coastline of Soldiers Point is now in better shape thanks to a new rock revetment wall and pathway to stabilise the area and provide safer connections.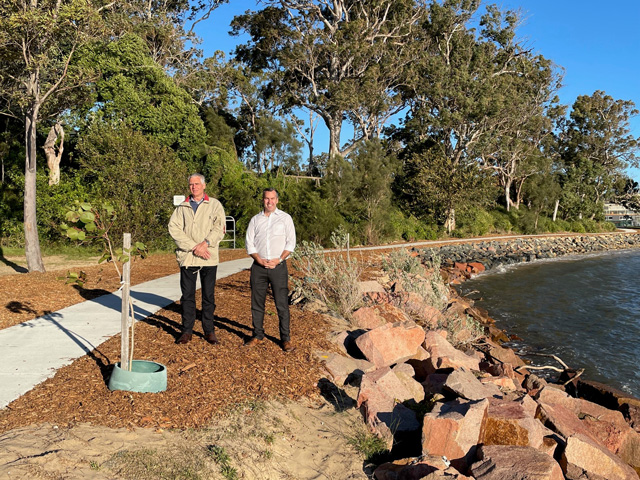 Port Stephens Council funded the works along with the Australian Government's Local Roads and Community Infrastructure Fund.
Port Stephens Mayor Ryan Palmer says it's a great improvement to the area.
"Soldiers Point is a popular destination for locals and visitors — these works protect and conserve our coastline so that we can continue to enjoy this area for generations to come.
"The rock revetment wall stabilises the area to reduce coastal erosion while the pathway improves connections between the car park, boat ramp and marina — making the area more accessible.
Mayor Palmer says the works took into consideration the cultural significance of the site.
"We know Soldiers Point is an important Aboriginal Place in Port Stephens, so it was very important that our contactor understood how to work in a site like this to conserve the unique landscape.
"The result is a positive one for the environment, our local culture and our community," he said.
Nearby Spencer Park in Soldiers Point is also set to receive a $280,000 upgrade thanks to funding from the NSW Government Stronger Country Communities Fund and Port Stephens Council.
Spencer Park will receive a brand new playground, amenities, pathways and additional park furniture. Works were due to begin later this year but have been rescheduled to mid-2022 to allow for an Aboriginal cultural heritage assessment.
For more information about major projects and works in Port Stephens, visit portstephens.nsw.gov.au/projects