New pathway named in honour of Shirley O'Brien
Publish Date 15/07/2021
A newly constructed pathway in Anna Bay has been named after the late Port Stephens Councillor Shirley O'Brien in recognition of her contribution to the community.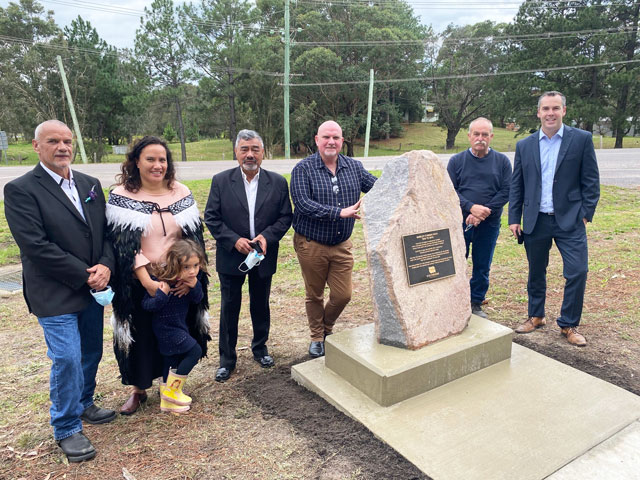 Shirley O'Brien passed away in October 2019 and has been remembered as a passionate community member who served on Council from 2008 to 2012.
Mayor Ryan Palmer officially opened the Shirley O'Brien Path, which runs along Gan Gan Road from Nelson Bay Road to James Patterson Street, at a small ceremony this morning.
"Shirley's passing left a huge hole in the local community. She served her community as a Councillor, was a founding member of the Birubi Surf Life Saving Club and was actively involved in helping to make Anna Bay a better place.
"This new pathway has helped to better connect the community of Anna Bay, making it safer for our local residents to access the shops and services. It's a wonderful tribute to Shirley and the way she connected our community," he said.
Councillor Chris Doohan raised a notice of motion to have the new pathway named after Shirley O'Brien in June 2020.
"Shirley was a wonderful lady who was incredibly community-minded. 'Aunty Shirl', as she was affectionately known, was a strong advocate for this pathway to better connect the villages near Nelson Bay Road to the town centre.
"She would be absolutely delighted, with that cheeky grin on her face, if she could see this pathway today. Aunty Shirl was very passionate about this project, as she saw it as the connection link for all people with all abilities and all ages in the expanding Anna Bay village.
"Naming this footpath on behalf of Shirley O'Brien is an honour and pleasure. I hope many generations to come will walk the Shirley O'Brien Path and appreciate all she has done for our community," he said.
For more information about this and other major projects happening in Port Stephens, visit portstephens.nsw.gov.au/projects