Le Mottee elected new Deputy Mayor
Publish Date 23/09/2020
Port Stephens Council has a new Deputy Mayor in Butterwick resident and West Ward Councillor Paul Le Mottee, who was elected 6 votes to 3 against fellow nominee Councillor Giacomo Arnott. Le Mottee will hold the role for a period of 12 months.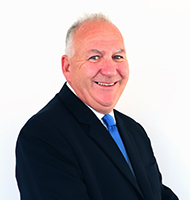 This is the first time as Deputy Mayor for Cr Le Mottee, who takes over from Central Ward Councillor Chris Doohan.
"To be elected to Council, the community need to believe you're going to do a good job — but to be elected as Deputy Mayor, Councillors need to know you're going to do a good job," Cr Le Mottee said after being sworn in at tonight's Council meeting.
"I'm very excited to continue to work with my fellow Councillors in this new role and focus on delivering for our Port Stephens community," he said.
Cr Chris Doohan said it had been a pleasure serving in the role before offering his congratulations to Cr Le Mottee.
"It's been a challenging and enjoyable 12 months in the role and I look forward to supporting Councillor Le Mottee during his term as Deputy Mayor."
Deputy Mayor Le Mottee will remain in the role for a term of 1 year, effective immediately.