Hazard Reduction burning adjacent Seaside Village at Fern Bay in Worimi Conservation Lands
Publish Date 08/05/2018
The National Parks and Wildlife Service (NPWS) intends to conduct two hazard reduction burns in the Worimi Conservation Lands, adjacent to the Seaside Village at Fern Bay over the next 1-5 weeks, weather permitting.
To allow for the safe completion of the hazard reduction burns, the Fern Bay 4WD beach access to the Worimi Conservation Lands will be temporarily closed during the burning operations.
Each burn will take 1-2 days to complete, and will be managed by NPWS with assistance from the NSW Rural Fire Service. The burns will be completed in stages, with the location of Stage 1 & Stage 2 shown on the map below: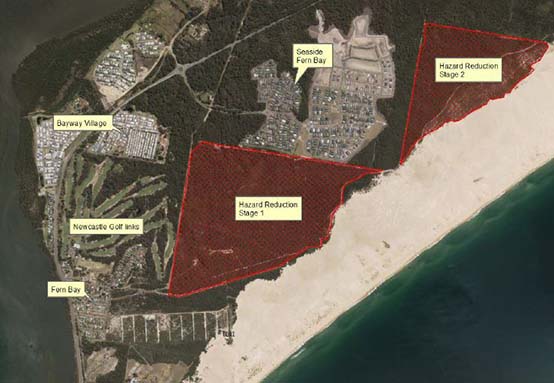 Every effort will be made to minimise the impact of smoke on residents, however people in the vicinity of Seaside Village, Bayway Village and Fern Bay are advised to be prepared for smoke in the area which may linger for a day or so after the burning is complete.
For safety, people are warned to keep well clear of the burn area and avoid sightseeing which can hinder fire crew operations.
Motorists should also be aware that visibility on some roads in the area may be temporarily affected by smoke, and should adjust their driving accordingly.
NPWS also recommends that you consider the following:
Remove washing from the line.
As far as possible, leave pets inside.
Close windows to prevent smoke entering the house and setting off smoke alarms.
Follow the instructions of fire fighters.
If you suffer from asthma or any other respiratory condition try and avoid the general vicinity as far as possible during the burn.
Please don't:
Park vehicles in front of gates or next to bush that will be burnt.
Block or restrict access along any fire trails.
Place garden waste or any other materials inside the burn area before, during or after the burn.
Approach or enter the burn area for any reason during the burn.
Temporary park closures
Recently burnt areas contain many potential safety hazards including falling branches and trees, rolling logs, buried hot coals, hollows beneath the ground that are subject to collapse etc. Many of these hazards are not obvious or visible. For these reasons the burnt area will be temporarily closed to the public following the burn and signs to this effect will be erected.
Following the burn, the area will be assessed and reopened to the public when it is considered safe. Please avoid entering the burn area when closed signs are in place.
The scheduling of the burning is highly dependent on weather conditions, and will be rescheduled if conditions are not favourable.
The burn is part of a strategic fuel reduction program for the Worimi Conservation lands, and will assist in preventing wildfire leaving or entering the park, and reducing fire risk to neighbouring residences.
If you have any further questions or concerns please contact the NPWS Hunter Coast Area office on (02) 49848200.