Council-owned holiday parks named as finalists in NSW Tourism Awards
Publish Date 16/10/2017
Two Port Stephens Council-owned holiday parks, Thou Walla Sunset Retreat and Fingal Bay Holiday Park, have been announced as finalists in the 2017 NSW Tourism Awards.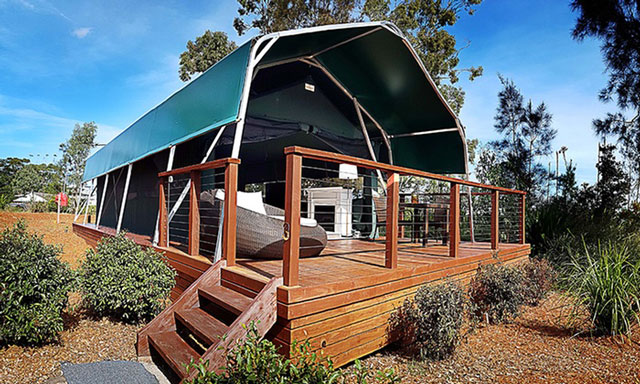 The awards recognise tourism businesses that demonstrate outstanding achievement throughout the year.
Thou Walla Sunset Retreat in Soldiers Point is nominated in the 'Unique Accommodation' category for its sunset camping tents, which take 'glamping' to a new level with king size bed, full ensuite and flat screen TV. It's one of three finalists in the category, which also includes Taronga Western Plains Zoo.
Fingal Bay Holiday Park is one of six finalists nominated in the 'Caravan and Holiday Parks' category, reflecting the excellent accommodation and tourism experience it has to offer.
Kim Latham, Port Stephens Council's Holiday Parks Operations Manager, says she's incredibly proud of both of the holiday parks.
"For not one, but two, of our Council-owned holiday parks to be finalists in this year's NSW Tourism Awards is a resounding endorsement of the quality of our accommodation and the unique experience we offer here in Port Stephens," Ms Latham said.
"While both Thou Walla Sunset Retreat and Fingal Bay Holiday Park are up against strong competition, just being recognised as a finalist in these prestigious awards is an amazing achievement," she added.
Ms Latham said it was encouraging to see several Port Stephens businesses also being recognised as finalists.
"It's wonderful to see local tourist attractions like Oakvale Farm and Fauna World and Sand Dune Adventures nominated as finalists for these awards, as these businesses play a huge role in attracting visitors to the Port Stephens region," she added.
The 2017 NSW Tourism Awards winners will be announced Thursday 16 November at the International Convention Centre in Sydney.