Construction kicks off at Medowie's Boyd Oval
Publish Date 06/07/2021
Medowie's Boyd Oval will soon be home to a new $1.4 million amenities building that will better cater for rugby union and touch football teams, with works kicking off this week.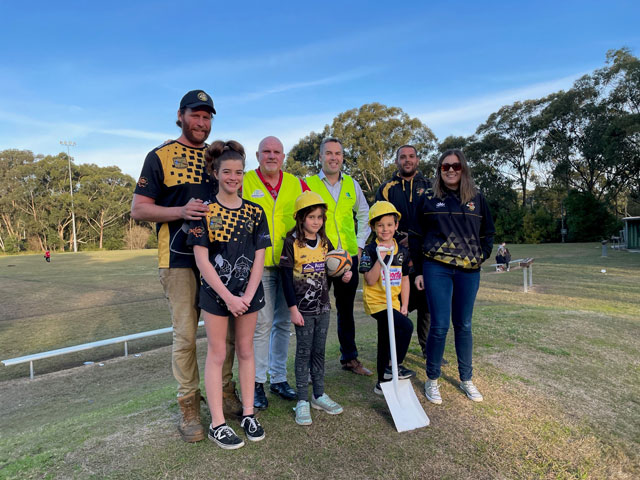 Port Stephens Council has allocated funds from developer contributions for the project and received funding from the Australian Government's Local Roads and Community Infrastructure program.
At a ground breaking ceremony this afternoon, Mayor Ryan Palmer said the new facility will be an asset to the community.
"To say this new facility will be an improvement is an understatement. It will feature accessible amenities, change rooms, canteen, referee rooms and a first aid room.
"The design will be similar to the new amenities at Karuah's Lionel Morten Oval and when it's complete, it will become a fantastic asset for the sporting community of Medowie.
"We know how important facilities like these are for the health and wellbeing of our community.
"It has taken many years to get funding for this project, and without a special rate variation, the wait has been a lot longer than we would have liked. But it's great to see it finally being delivered," he said.
Medowie local and Councillor Chris Doohan helped break ground at the construction site and said he's excited to see work get underway.
"This new facility will mean our local rugby union and touch football clubs will have access to top-notch facilities instead of operating out of a shipping container.
"This is a massive improvement for the sporting community of Medowie and I can't wait to see the final product!"
Community and Recreation Coordinator Brock Lamont says the facility has been designed with users in mind.
"We've worked with the main users including the rugby union club to make sure the new facility will meet their needs.
"We'll demolish the existing building and construct the new one nearby but in a more central location. This will improve the connection to both playing fields, widen the viewing corridor and make for a better spectator experience," he said.
Construction begins this week and is scheduled to take 6 months to complete, weather permitting.