Apex Park officially opens with inaugural Tomaree Arts Festival
Publish Date 25/10/2019
After months of revitalisation works, the newly revamped Apex Park has officially reopened this afternoon with the inaugural Tomaree Arts Festival.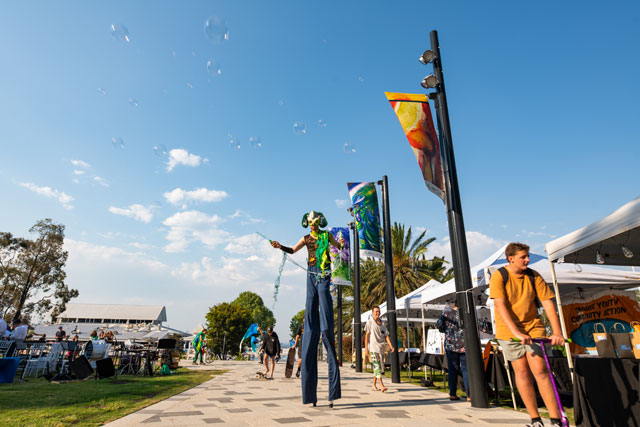 Works to revitalise Apex Park have included a new grassed amphitheatre, improved pathways, irrigation, lighting and electrical services to create a multi-functional community space.
Port Stephens Mayor Ryan Palmer says the Tomaree Arts Festival is the perfect way to celebrate the park's reopening.
"It's hard to believe that just over a year ago, the NSW Government announced funding for the revitalisation of Apex Park.
"Apex Park is now a place where people want to stay, relax and enjoy spending time. It's also a multi-functional space that can cater for outdoor events and activities like the Tomaree Arts Festival!" Mayor Palmer said.
"Under the banner of Nelson Bay Next, Council has been busy completing important projects like the Yacaaba Street extension, revitalising Apex Park and soon we'll be starting work on demolishing the Donald Street East carpark.
"All of these works are an important step forward for Nelson Bay as we continue to drive progress in the town centre," he said.
Council's Community Development and Engagement Coordinator Amber Herrmann says the Tomaree Arts Festival is a first for the peninsula.
"What better way to show off the brand new Apex Park than to hold a vibrant community event.
"The inaugural Tomaree Arts Festival is brought to the community by the Seaside Singers and will feature 14 events at 10 venues across 4 days.
"I'd encourage everyone to check out the full program of events on our website and turn out to support this fantastic community event!" she said.
See the full program of events for the Tomaree Arts Festival.