$25 million for Clarence Town Road – Raymond Terrace to Dungog improving safety and connectivity
Publish Date 07/07/2021
Essential upgrades to Clarence Town Road are progressing well, with Port Stephens and Dungog Councils undertaking rehabilitation works between Raymond Terrace and Dungog.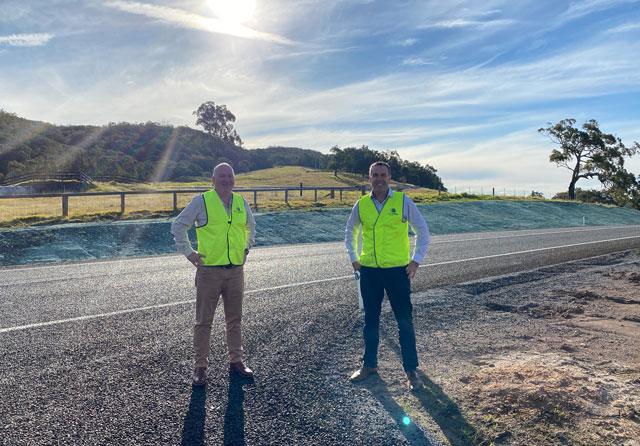 The works are thanks to $20 million in funding from the Australian Government's Roads of Strategic Importance program and $5 million from the NSW Government.
Federal Member for Lyne Dr David Gillespie says the works have been made possible by the Australian Government's $4.9 billion Roads of Strategic Importance initiative.
"The project will deliver upgrades to 22 sections of road to rehabilitate a critical link between Dungog and Raymond Terrace. The project will improve safety and freight efficiency, extend the existing B-Double networks and boost the productivity of local industries.
"It's also an important link for families who are travelling to work, school and for our primary producers who are getting product to market. These works will ensure a safer journey for all.
"The Clarence Town Road – Raymond Terrace to Dungog project is a key piece of our road network and opening up corridors to provide more reliable and safe road network will improve connectivity between people and jobs and facilitate movement of goods to markets," Dr Gillespie said.
Port Stephens Mayor Ryan Palmer says works are in full swing.
"There are 4 sections of the project that have already been completed out of the 11 sections being delivered by the Port Stephens Council. This is already making a big difference for drivers on Clarence Town Road, which has been impacting safety, commercial farm, tourist and community use for some time, "he said.
Works currently underway include pavement rehabilitation and rejuvenation, shoulder widening, alignment corrects, drainage and ancillary works. The project is expected to be completed by mid-2023.
Mayor Palmer says the upgrades also include the main street of Seaham as part of the regional route.
"The recently completed sections of the project, including the upgrades on Warren Street Seaham, are already improving the drainage and making it safer for bus users and pedestrians.
"By increasing road user safety and improved community connectivity it will also positively impact the health and wellbeing of local communities," he said.
The upgrades will occur not only with the Port Stephens Council area, but also in the neighbouring Dungog Shire.
Work locations and details in the Port Stephens Council area:
Project 1: Clarence Town Road from Carmichaels Creek corner towards Timbertop Road — underway
Project 2:Clarence Town Road from Wattle Creek Bridge to Langlands Road — planned construction 2022
Project 3: Clarence Town Road from Oakendale Road to Hunter Water crossover — planned construction September 2021
Project 4: Clarence Town Road from Mooghin Road to Dixon Street — planned construction 2023
Project 5: Clarence Town Road from Dunmore Bridge north 150m — completed February 2021
Project 6: Clarence Town Road from number 364 to number 430 — completed February 2021
Project 7: Clarence Town Road from Croft Road south through the curves — planned construction revised to November 2021
Project 8: Warren Street from number 44 to number 86 — planned construction revised to November 2021
Project 9: Warren Street from East Seaham Road to Dixon Street — complete May 2021
Project 10: Seaham Road from Hinton Road to Raymond Terrace Road — planned construction 2023
Project 11: Seaham Road from Raymond Terrace Road roundabout north 300m — completed February 2021
For more information about capital works projects across Port Stephens visit https://www.portstephens.nsw.gov.au/live/resident-services/capital-works