$1.3m facelift for Fern Bay Community Centre
Publish Date 20/03/2018
The old Fern Bay hall has been replaced with a brand new $1.3 million dollar Community Centre, featuring modern facilities, amenities and storage to service the growing community's needs.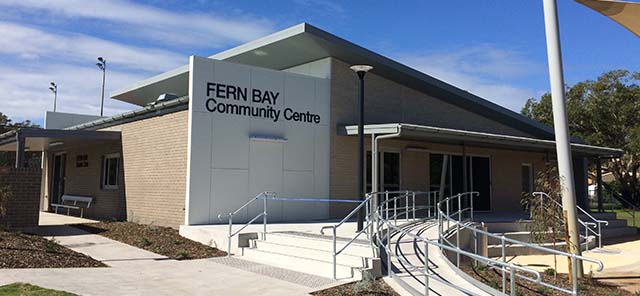 The project has been fully funded by Port Stephens Council and features a multi-function hall space, tennis club office and net storage, a commercial kitchen, reception desk, amenities and storage rooms. The existing car park has also been developed to provide 20 sealed spaces.
Mayor of Port Stephens, Ryan Palmer, says it's a great outcome for the community of Fern Bay.
"I know how important it is for a community to have a central place for meetings, sport, culture and kids' activities, so it's great to be able to open this brand new community space for Fern Bay," Mayor Palmer said.
"This new, modern facility is a huge step up from the previous hall. Plus, it's more flexible, so different types of groups can use the space – from before and after school care to community meetings, dance groups, cultural group meetings, yoga, seniors events and much more.
"The tennis club has also been consolidated into the new facility, which is a great outcome for those members," he added.
Anthony Tindall, Treasurer of the Fern Bay Community Centre Committee, says it's a wonderful new facility for the entire community to enjoy.
"Fern Bay is a beautiful place – it's close to the airport, the beach, the river, the bay and Newcastle. This is the only place in Fern Bay where the community can really get together and be sociable, so it's great that we have this brand new facility," he said.
"We're also looking for new members to join the Fern Bay Community Centre Committee to help with managing the facility. We'd love to hear from people who are interested in giving back to their community, so please get in touch with Council to get involved. Any help is greatly appreciated," he added.
If you are interested in joining the Fern Bay Community Centre Committee, contact Council's Volunteers Coordinator on 4988 0255 or volunteers@portstephens.nsw.gov.au