William Street, Raymond Terrace
| Project | Expected start month | Expected completion month | Status | Budget | Contribution |
| --- | --- | --- | --- | --- | --- |
| William Street Stage 1 | February 2022 | February 2023 | Completed | $128k | |
| William Street Stage 2 | March 2023 | June 2023 | Scheduled | $780k | |
Latest updates
6 December 2022
Works are progressing on the seating decks in Williams Street, Raymond Terrace. This week will see the installation of balustrades and handrails. Next week the shade is scheduled to be installed and furniture will be placed on the decks. Completion is expected late next week.
Project overview
This project is about creating new places for people to gather and spend time are on the way for William Street in Raymond Terrace to create a more vibrant town centre and support local businesses.
Stage 1 of planned works includes 3 art-inspired shade structures featuring new decking and seating underneath, greening and planting, lighting and cameras to improve safety, and improved accessible car parking.
One purpose of the William Street project is to provide a greater level of amenity, safety and service to pedestrians in our town centres, under the principal of traffic calming which uses physical design and other measures to purposely slow traffic down. As part of the works pedestrian crossing lighting is being installed and pavement marking is part of the scope for the Stage 2 works.
Stage 1 is funded through the NSW Governments Streets as Shared Spaces Fund
Improved lighting
Architectural shade structures
Balustrade installation to the decking
Seating / planter boxes on the decking
Decorative artwork theme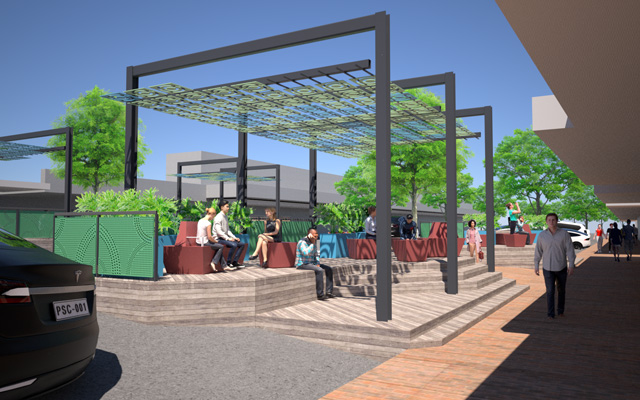 Stage 2 is funded through the NSW Government Public Spaces Legacy Fund
Pavement cleaning and repair
landscaping
art
shade
seating
safer pedestrian crossing and roundabouts using road stamping
Background
This project is one of many to come that aim to meet objectives of the Raymond Terrace Public Domain Plan, which is a 20-year vision for Raymond Terrace that prioritises people and focuses on connectivity, public spaces and place activation.
The Raymond Terrace Public Domain Plan (PDP) was informed by community feedback and ideas collected through the community engagement project phase conducted in early 2020 and key findings from the Liveability Index undertaken by Placescore in 2020.
Council sought specific engagement around the William Street, Streets as Shared Spaces project in June and July 2021 with businesses and key stakeholders including: business drop-in session, business walk around, online survey, Raymond Terrace Implementation Panel meeting, project webpage, newsletter to key stakeholders, social media and media releases.
Council will continue to look for opportunities to improve the streetscape, public spaces and pedestrian connectivity as per the Raymond Terrace Public Domain Plan.