Raymond Terrace high pedestrian activity area
| Expected start month | Expected completion month | Status | Budget | Contribution |
| --- | --- | --- | --- | --- |
| May 2023 | June 2023 | Scheduled | $430k | |
Latest updates
13 July 2023
Linemarking in the below locations was scheduled for 12 July but the heavy fog made the road too damp for paint. We'll try again tomorrow (14/07) during day works.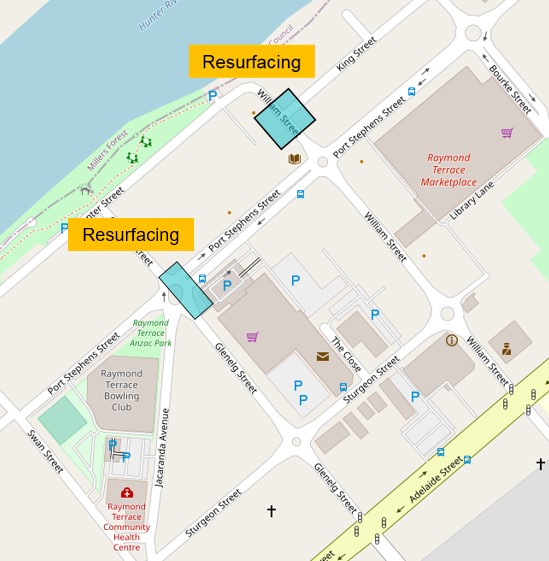 Project background
Raymond Terrace is a regional centre within the Hunter Region. Substantial growth of the surrounding area has seen expansion of the town centre for goods, services and traffic.
The original high pedestrian activity area (HPAA) created in 1995 covered one block of Raymond Terrace town centre, adjacent to the Pacific Highway prior to bypassing the town centre in 1998. Crashes are occurring at the perimeter of the existing zone and expansion has been highlighted in the strategic plan for a reduced speed limit to improve pedestrian connectivity and safety.
Recent plans to enhance livability and commercial activity in the town centre has highlighted connectivity and safety concerns and a desire to revitalize the historical river sections of town to link with more developed commercial areas.
Project aims and objectives
HPAA installation/extension to improve pedestrian and vehicle interaction in the Raymond Terrace Town Centre
Improving roundabout approaches to slow vehicles down
Town centre identification to visitors
Project scope
Extend area of existing HPAA in Raymond Terrace town centre to include the following streets:
William Street (extension of existing)
Port Stephens Street (extension of existing)
Glenelg Street (extension of existing)
Jacaranda Avenue
Bourke Street
King Street
Hunter Street
The works have commenced on site works on our High Pedestrian Activity Area (HPAA) extension project around the Raymond Terrace CBD. Works involve improving deflection on roundabout approaches to slow vehicles down and extending the existing 40KPH area to improve pedestrian and vehicle interaction.
The works will involve new signage and linemarking to highlight the extended area of the HPAA with more detailed works being completed at the Glenelg St and Port Stephens St intersection, and the William St and King St intersection to introduce greater pedestrian facilities.
The map below indicates construction at sites 3 and 7—these works could cause disruption and inconvenience. Site 6 will have some minor works completed in the centre median along Port Stephens Street.
All remaining sites will have the installation of the High Pedestrian Activity Area signage, road line marking and speed limit changes.
Traffic control will be in place during construction hours, please follow traffic control directions.