Nelson Bay CBD
| Project | Expected start month | Expected completion month | Status | Budget | Contribution |
| --- | --- | --- | --- | --- | --- |
| High Pedestrian Activity Area Improvements (Town Centre) | May 2023 | June 2023 | Scheduled | $440k | |
| Removal of Victoria Parade pedestrian bridge | December 2022 | June 2023 | Scheduled | $340k | |
Project description
Project Background
Nelson Bay CBD is the main commercial centre for eastern Port Stephens LGA. There has been a history of crashes in the Nelson Bay CBD involving pedestrians and vehicles.
Project Aims
The aim of the project is to improve and reduce vehicle speeds in Nelson Bay CBD and improve pedestrian and vehicle interaction in the CBD. The works will focus on several intersection upgrades including improved pedestrian crossing facilities.
Project Scope
Works scheduled to commence 8 May 2023 (weather permitting)
Installing 40km High Pedestrian Activity Area (HPAA) Signage
Improve deflection angle of existing roundabouts of Stockton and Dowling Streets and Church St and Government Rd – this aids in slowing vehicles down.
Install new raised threshold pedestrian crossing at the Donald St and Stockton St Intersection
Relocate existing pedestrian crossing at Donald St (adjacent to Woolworths) to the west and construct raised threshold pedestrian crossing.
Extension of the 10km Shared zone in Magnus St to encompass the Yacaaba and Magnus St intersection.
Adjustment to linemarking and kerbs at Yacaaba and Donald St intersection.
Additional linemarking at Stockton St and Tomaree St intersection
These works will involve some localised road closures and detours, however, they will only be during construction hours with the roads reopened outside of these hours. Bus routes will remain in operation under traffic control.
Download: Nelson Bay CBD High Pedestrian Activity Area Overview (PDF 1.9 MB)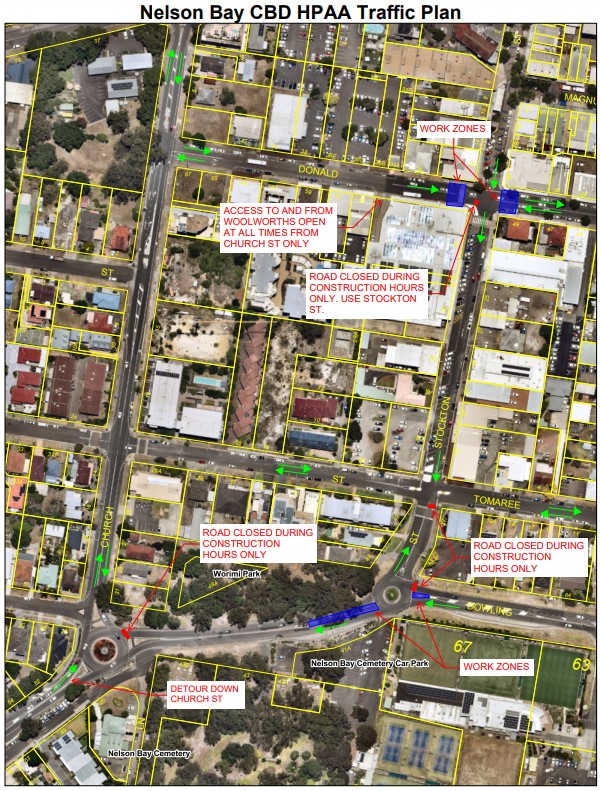 The removal of the bridge is consistent with the longer-term vision of the Nelson Bay town centre as described in the Nelson Bay Public Domain Plan adopted in 2019. The rectification works will be undertaken using Infrastructure Contributions from developers.
As part of our maintenance program, structural issues were identified in early 2022 and the bridge was removed in April 2022 for further assessment. The examination of the bridge outlined extensive improvements would be required to meet current building codes and ensure the safety of pedestrians and traffic. The costs associated with those repairs were significant and based on the assessment, would only be a short-term fix.
Phase 1 – Removal
The pedestrian bridge was removed in April 2022.
Phase 2 – Engineering Inspection
Both the bridge and support structure have been inspected and removed indefinitely.
Phase 3 – Demolition
Demolition of the bridge access within Apex Park side was completed in late 2022.

We'll be working on removing the remaining support structure on the shop side (Nelson Towers) in mid-2023.
Latest updates
The proposed changes include:
Improving roundabout approaches to lower entry and exit speeds at both the Government Road and Church Street and Stockton and Dowling Street roundabouts
Changing parts of the existing 50km/hr zones to 40km/hr zones which is a high pedestrian activity area
Extending the existing 10km shared zone on Magnus Street to include the Magnus and Yacaaba Street intersection
Improving pedestrian crossing areas at the Woolworths intersection (Stockton and Donald Streets
These proposed changes have been funded by the Australian Government's Black Spot funding and have been assessed by the Local Traffic Committee which is made up of representatives from Port Stephens Highway Patrol, Transport for New South Wales, Local Members of NSW Parliament — Member for Port Stephens and Member for Newcastle, Councillors and Bus companies.
For more information about these changes, please refer to the below:
Read the latest project update flyer here
Read the latest media release here
29 May 2023
The Stockton St median concrete infills have been completed this week. Woks have also continued with asphalt infills around the new median kerb.