Adelaide Street, Raymond Terrace
| Expected start month | Expected completion month | Status | Budget | Contribution |
| --- | --- | --- | --- | --- |
| March 2023 | July 2023 | In progress | $420k | |
Funded by Federal Blackspot Grant and Port Stephens Council.
Latest update
Town Entry Gateway Treatment (painting on road) - Thursday, 29 June 2023.
Works are planned to complete road surface painting on Adelaide Street.
One lane will be operating throughout this time to complete the works with traffic control in place.
Town Entry Gateway Treatment is a speed management treatment that involves the installation of signage and pavement marking at the entry point to a town where the speed limit transitions from a high speed rural environment (70k/hr) to a lower speed environment (50k/hr) that coincides with entering a town (Raymond Terrace).
The below image is an example of what the pavement marking will look like.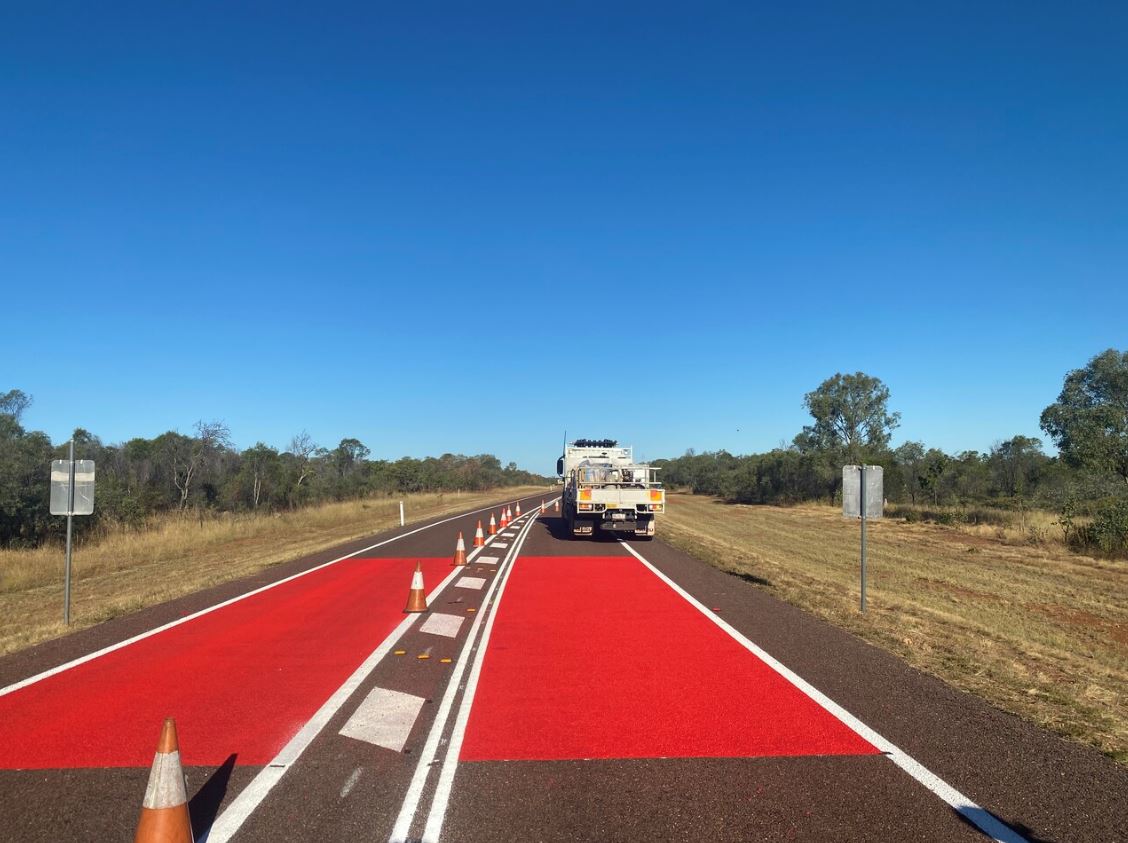 Added safety from this installation includes:
special speed limit signs that also show the name of the town on both sides of the road
narrowed lane widths to further encourage slower speeds
red pavement surface treatment in both traffic lanes
painted road shoulder markings and painted medians for wider road widths
Project Background:
This section of road is part of the former Pacific Highway in Raymond Terrace. It is a two lane, two way road with a divided, at grade, pedestrian crossing immediately following the 50km/h entry.
This section of Adelaide Street acts as the entry to Raymond Terrace residential areas northbound from Hexham.
There has been a fatal head-on crash, a pedestrian crash as well as two other non-injury crashes that have occurred from the 50km\h entry to 300m north, on Adelaide Street.
The old pedestrian crossing at Kent Street didn't comply with standards as pedestrians are required to walk across two lanes heading north on Adelaide Street (northbound land) and the Kent Street turn lane. Standards require no more one lane per direction of travel.
There was also no protection to the sides which left path users in a more open and vulnerable position. Installing kerb blisters/extensions on the sides of the travel lanes will provide additional protection for pedestrians. The centre median island also didn't comply with current standards. This project will upgrade and extend to the south for approximately 50m to provide delineation for road users and aid in protecting path users.
The turn lane into Kent Street is a hangover from the old Pacific Highway and isn't required based on current and projected traffic volumes. Having this turn lane adds additional conflict points to this crossing which is not ideal.
The rural gateway treatment is a mixture of linemarking and lane narrowing's to help emphasize and enforce the speed limit change when entering Raymond Terrace, without compromising safety for other road users such as cyclists.
A high percentage of heavy vehicles from surrounding quarries and commercial areas use this section of the road.
Safety requests have been received from residents and school and political representatives concerning the pedestrian connection from residential areas to Hunter River High.
Project Aim and Objectives:
Improve the condition of the existing road infrastructure and improve safety for pedestrians.
Project Scope:
Installation of a newly painted gateway in Adelaide Street at the speed zone change from 70km/h to 50km/h.
Upgrade of the existing pedestrian crossing on Adelaide Street near the intersection of Kent Street, to include kerb extensions, asphalt resurfacing, lighting upgrade, new concrete median, signposting and linemarking.
Upgrade Adelaide Street and Connanbarra Street intersection with new concrete median, signposting and linemarking.
Why did the pedestrian crossing and travel lanes change?
Transport for NSW guidelines and Australian Standards require pedestrian crossings to have no more than one lane of moving traffic in the same direction for pedestrians to cross.
Extract from Transport for NSW – Pedestrian Crossings – A best practice guideline for local governments, April 2022:
General requirements for pedestrian crossings - (refer to 5.1) Recommended requirements for all crossings
The expectation is that pedestrian crossings meet the minimum criteria set out in AS 1742.10, i.e.:
Non-arterial road
50 km/h or less
No more than one lane of moving traffic on each approach
Adequate sight distances (refer to Austroads Guide to Road Design Part 4A)
Adequate kerb ramps
Adequate lighting (refer to AS 1158.4).
When did this go to the Traffic Committee?
Please refer to the minutes from the Local Traffic Committee in the March 2023 meeting.