Endless Summer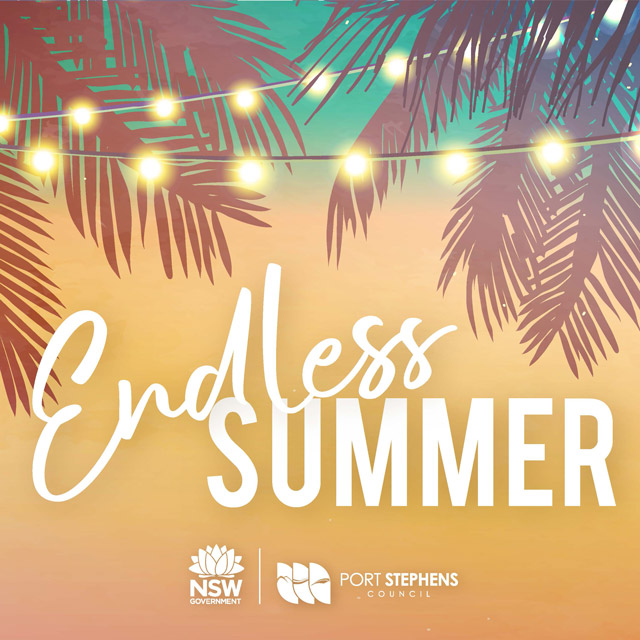 Saturday 13 March 2021 to Saturday 17 April 2021
5pm to 7pm
Venue: Shoal Bay Foreshore Reserve
Address: 70 Shoal Bay Rd Shoal Bay
Cost: Free
Enjoy the warm weather and incredible natural beauty of Port Stephens as part of our Endless Summer event series!
Join us each Saturday evening at Shoal Bay foreshore for music and activities in the park and the new parklets for the whole family to enjoy.
Saturday 13 March 2021
5 to 7pm — Megan Snow — acoustic musician
7 to 9pm — Hannah Indigo — street entertainment
Saturday 20 March 2021 — cancelled due to severe weather conditions
Saturday 27 March 2021
5 to 7pm — live music
5 to 7pm — Soulfire Circus
Saturday 10 April 2021
Shoal Bay
5 to 7pm — Music by DJ Perry
6 to 8pm — Curious Legends — illuminated puppets
Saturday 17 April 2021 — new date
Boomerang Park, Raymond Terrace
4 to 6pm — music, food trucks and family entertainment
From 6pm — Sundown Cinema presents Toy Story
Disclaimer
Port Stephens Council has no control over the content of material accessible on any site cross-referenced and makes no representations about the accuracy of information contained on those websites. Council is not liable for the content on those websites. It is accordingly the responsibility of the internet user to make their own decisions about the relevance or accuracy, currency and reliability of the information found on those sites. In addition, Council does not necessarily endorse or support the views, opinions, standards or information expressed at the linked sites. They have been included as information sources only.