Startup Stories - Sahil Harirram, Elite Robotics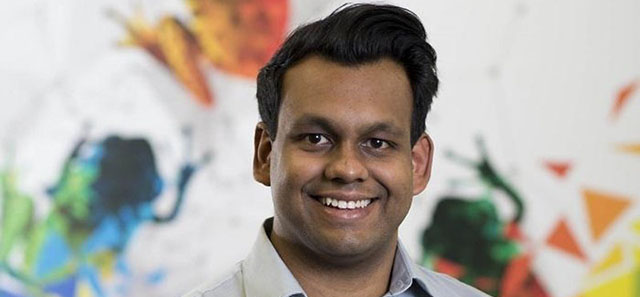 Elite Robotics is a startup focused on finding innovative solutions to common problems using autonomous vehicle technology. Co-founded by Sahil Harirram, Nathan Bartlett and Luke De Bono as a way to pursue a career in innovation having finished their degrees in Mechatronics Engineering and Industrial Design, their goal is to simplify your style of living and give you more time to spend doing the things you love. Elite Robotics first venture is LUCi, an automated lawnmower inspired by the two acres of grasslands one of the co-founders must push-mow throughout the year.
LUCi is purpose-built for large organisations like golf clubs and councils and leverages three systems to navigate these vast and often complex environments: spatial awareness and environment perception; actions or behaviours the user has defined for the robot; and a system which links the two prompting movement. This approach is novel to the market and forgoes the need for a perimeter wire around the space.
Combining their design and mechatronics knowledge, the trio put together a concept and won a number of pitching competitions, netting seed funding and validation of their idea. More recently, Elite Robotics was awarded an NSW State Government Minimum Viable Product (MVP) grant, receiving $25,000 in matched funding.
Join us live at DSA-18 Hub (or at Three76 Hub for the webstream) as Sahil describes his journey as a startup founder in robotics and advanced manufacturing industries, and to give his take on what led to Elite Robotics early successes and what the future holds for their exciting startup.
About Startup Stories
Startup Stories takes place every Thursday from 1 pm at the University of Newcastle's coworking spaces Three76 Hub (Newcastle) and DSA-18 Hub (Williamtown)*. Startup founders talk candidly about their experience as an entrepreneur and business owner – the highs, the lows, the wins, the mistakes, the whole enchilada. Startup Stories provides real-life examples of the different stages of the startup journey, creating a forum for startups to share and learn but also for the community to see tangible evidence of entrepreneurship making a difference in our region. #i2nStartupStories
*One space hosts the startup founder speaker while the other hosts a live web stream of the talk.
Program Partners
UON is proud to be able to bring this event to you via the NSW State Government's Boosting Business Innovation Program.
Disclaimer
Council has no control over the content of material accessible on any site cross-referenced and makes no representations about the accuracy of information contained on those websites. Council is not liable for the content on those websites. It is accordingly the responsibility of the internet user to make their own decisions about the relevance or accuracy, currency and reliability of the information found on those sites..
In addition, Council does not necessarily endorse or support the views, opinions, standards or information expressed at the linked sites. They have been included as information sources only.