Drop off Day - Salamander Bay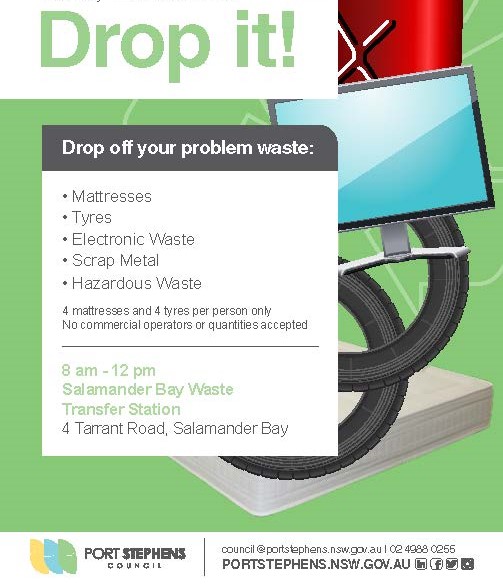 Saturday 16/11/2019
8.00AM - 8.00AM
Cost: Free
During the drop off day the following items only will be accepted:
Mattresses - 4 mattresses per customer only, bases also accepted
Tyres - 4 tyres per person, tyres on rims will also be accepted
Electronic waste
Household recycling
Scrap metal
Problem wastes - batteries, oil, paint, chemicals, fluorescent tubes, smoke detectors, gas bottles
No other waste will be accepted on the day
Only problem waste listed above will be accepted
Port Stephens residents only
No commercial operators will be accepted
Disclaimer
Council has no control over the content of material accessible on any site cross-referenced and makes no representations about the accuracy of information contained on those websites. Council is not liable for the content on those websites. It is accordingly the responsibility of the internet user to make their own decisions about the relevance or accuracy, currency and reliability of the information found on those sites..
In addition, Council does not necessarily endorse or support the views, opinions, standards or information expressed at the linked sites. They have been included as information sources only.