Illegal dumping
Illegal dumping is the unlawful deposit of waste larger than litter onto land. It includes waste that is disposed of on private or public land that has no licence or approval.
Illegal dumping can damage the environment and our health. It creates unsightly community spaces and high clean up costs. The NSW Environment Protection Authority (EPA) works with many organisations and Port Stephens Council to try to stamp out illegal dumping.
Illegal dumping FAQs
What are the consequences?
Under the Protection of the Environment Operations Act 1997, it is an offence to:
transport waste to, or deposit waste, in a place that can not lawfully be used as a waste facility; and
cause or permit it to be transported or deposited.
Penalties apply for this offence can be up to $250,000 for individuals and $1 million for corporations. On the spot penalty notices from $2000 to $8000 can be issued for lesser offences.
What is the alternative?
There is no need to dump unwanted items and materials. There are a number of waste and recycling services within Port Stephens.
What can Council do?
Council can investigate reports of illegal dumping. We work with community organisations to provide a coordinated response towards illegal dumping.
Make an illegal dumping report here.
Littering
Littering is when you discard material in a way that has negative effects on the use of that place. It can include:
throwing materials from a moving vehicles
leaving food or containers behind
stubbing out or discarding cigarettes
tossing out food remains
allowing materials to blow from a moving vehicle
Why is litter a problem?
Litter has many impacts on our environment and community, including:
reducing the aesthetic appeal of public places;
posing a threat to human safety;
posing a threat to wildlife through choking, injury and impacting water quality;
blocking stormwater drains causing flooding;
being a fire hazard if lit cigarettes are thrown.
Litter costs the community considerably to clean up each year.
What is Council doing?
Council partners with the NSW Environment Protect Authority (EPA) and NSW Government in Hey Tosser! litter prevention campaigns. These campaigns are part of the Waste Less Recycle More initiative, funded by the Waste Levy. Hey Tosser! aims at telling litterers that they are being watched and the community doesn't like what they are doing.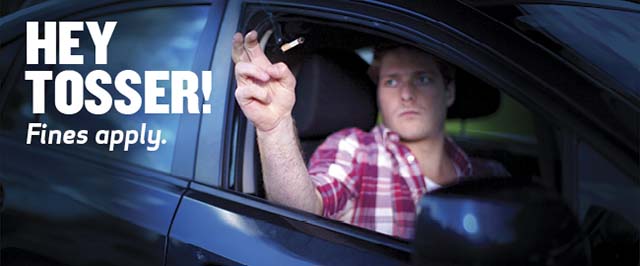 Downloads
What can you do?
You can help prevent littering by:
putting your rubbish in the bin
take your rubbish with you if there is no bin around
keep a bag in the car to collect rubbish
put your cigarette butt in a butt bin, or ordinary bin once it's extinguished
pick up the litter of others, and ask others to pick up their litter
contact Council and local community groups about prevention projects
get involved in a litter prevention project