Heavy loads
Vehicles carrying heavy loads use Port Stephens roads as part of their everyday activity.
Heavy load restrictions are in place in the Port Stephens area for heavy vehicles. Signposted weight limits restricting heavier vehicles have been put in place in the below locations. It is important to know the weight of your vehicle as fines apply for driving over the weight limit in a load restricted street. Fines can range from $337 to $1346.
| Street and suburb | Load limit |
| --- | --- |
| Marsh Road, Bob's Farm | 3 tonne limit |
| Patterson Road, Woodville | 3 tonne limit |
| Foreshore Drive, Corlette | 3 tonne limit |
| Cox's Lane, Fullerton Cove | 5 tonne limit |
| Cross Street, Seaham | 3 tonne limit |
| Bonser Lane, Karuah | 3 tonne limit |
The Heavy Vehicle National Law requires that the relevant road authorities must approve the intended path of travel for an oversize of over-mass (OSOM) vehicle before a trip can take place.
If you are seeking to transport an OSOM on Council roads you need to submit an 'Oversize/Over-mass Permit' form, found within Application Forms, and pay the relevant application fee.
Heavy load FAQ's
What is a heavy vehicle?
Under the Heavy Vehicle National Law, a heavy vehicle weighs over 4.5 tonnes. These can include:
Semi-trailers
B-double freight trucks
Road trains
Passenger busses
Livestock and other agricultural vehicles
Mobile cranes and other special purpose vehicles.
What are the classes of heavy vehicles?
Class 1 heavy vehicles – special purpose vehicles, agricultural vehicles, oversize and over mass vehicles
Class 2 heavy vehicles – freight carrying vehicles (B-doubles, B-triples, road-trains), buses, vehicle carriers, livestock vehicles, performance based standards (PBS) vehicles.
Class 3 heavy vehicles – vehicles which, together with their load, do not comply with prescribed mass or dimension requirements.
Load restraints
It is important to correctly restrain your load. Loads that aren't restrained correctly can cause serious damage to something or someone.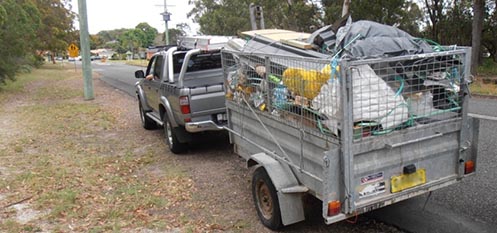 You are responsible for your load so that it does not:
come off your vehicle under normal driving conditions
affect the stability of your vehicle
stick out of the vehicle so that it could damage something or someone.
You must pick up any fallen load if it is safe to do so.
Load restraint FAQ's
Who are load restraint laws for?
All vehicles, not just heavy vehicles, are required to ensure their load is adequately secured and to ensure it does not cause instability of the vehicle.
It is the role of Council to patrol public roads and enforce road laws that protect public safety and protect roads from damage. Rangers conduct load inspections at both inspection stations and by stopping overloaded vehicles.
Do I have to cover my load?
Your load will need to be covered if you have either of the following:
a load of any type of waste (except all tyres or metals)
have any loose items/material that can blow off your load
The Load Restraints Guide 2018 includes guidelines for ensuring your load is safely restrained.