Port Stephens Council are undertaking important pedestrian improvement works along Market Street, Fingal Bay.
The works involve the installation of new kerbs, gutters, ramps and the construction of an asphaltic concrete footpath. These works will also involve the change of parallel parking to angle parking along a section of Market Street.
These works will build on the existing footpath works previously undertaken by Council over the last few financial years.
The works are designed to provide compliance to disability standards with a particular focus around the bus stop area. The existing bus shelter is to remain in place initially but will be relocated into the newly constructed area later this financial year as this is funded separately by the Country Passenger Transport Infrastructure Grant program.
The footpath works will be completed using primarily asphaltic concrete. This surface was chosen to ensure disability standard compliance and to enable future works to be undertaken easily and at less cost to Council and ratepayers.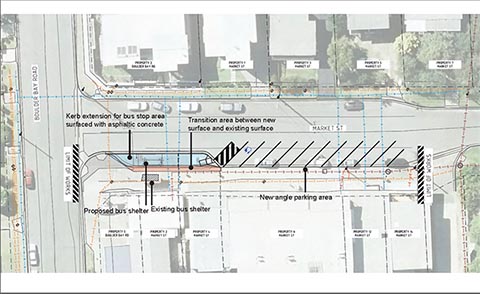 Future works
Further works to address the issues associated with the slope of existing concrete footpath area along Market Street and in particular the area around the former service station site are yet to be fully funded by Council.
Highlighted by Councillors, these further works formed part of the Special Rate Variation proposal at an estimated cost of $500,000. The proposed works would involve the revitalisation of Final Bay town centre through the provision of footpaths along and to Market Street, gateway signage, formalised parking and gardens on road blisters and footpaths.