Works at Caswell Reserve, Mallabulla are almost now complete.
Project details
These significant works included the construction of a new playground, new amenities, sealed car parking areas and paths to improve access.
The park layout was changed as part of this project. The changes include locating the new playground closer to the foreshore and relocating the amenities to the same side of the access as the playground. The park layout changes were designed to reduce vehicle traffic around children and to allow ease of supervision for parents and carers.
New playground
The new playground which was funded through our Capital Works Program incorporates a variety of swings including a basket swing, climbing equipment, a mini carousel, balancing ropes, and natural play areas. It also incorporates the following:
the design is suitable for children aged from 2 - 12 years
landscaping and seating are included within the design allowing for friends and family to interact comfortably while supervising children
1.2m wide bike path around playground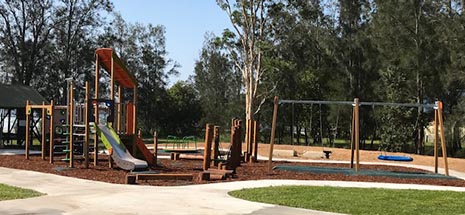 Construction period
Works will be fully complete by May 2019.