Apex Park, Nelson Bay
| Expected start month | Expected completion month | Budget |
| --- | --- | --- |
| July 2019 | August 2019 | $400k |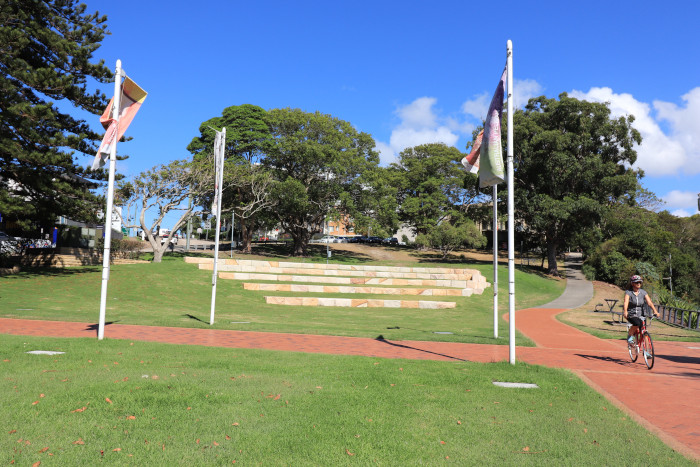 Developed as an action from Council's Nelson Bay Town Centre and Foreshore Strategy 2012, the Apex Park Masterplan to improve the park was adopted by Council in December 2015. The plan was costed by Council, but not funded. Council has since applied for and been successful in receiving grant funding, thus allowing for the Apex Park Revitalisation stage 1 works to commence.
Download the Apex Park Masterplan
Project Overview
Stage 1a of the adopted Apex Park Masterplan began in late August 2018 through the Apex Park Revitalisation Project. These works included landscaping a grassed, tiered amphitheatre, installation of irrigation and electrical infrastructure and selective vegetation removal to improve usable spaces and sight lines throughout Apex Park. These works were completed prior to Remembrance Day, 11 November 2018.
Construction works for Stage 1b are scheduled to commence June 2019.
The Apex Park Revitalisation project is proudly joint funded by NSW Government and Port Stephens Council.
Key features
Stage 1a works included:
Landscaping works to create a grassed amphitheatre
Selective vegetation removal to improve sight lines and useable spaces (additional tree planting to be undertaken during Stage 1b)
Installation of irrigation system
Installation of improved electrical services to support future upgrades and community events.
Stage 1b works include:
The widening of the entry pathway between Victoria Parade and Teramby Road
The replacement of the stairs leading toward D'Albora marina with a pavement treatment matching the entry pathway; and
Improved lighting and banner pole signage through the park.
Downloads