The Grey-headed Flying-fox provides important ecological services, pollinating and spreading seed of native flora, including endangered plant species and communities.
Grey-headed Flying-fox colonies are protected under federal and state government legislation due to their wider ecological importance. The Raymond Terrace camp is recognised as a nationally important camp under the Commonwealth Environment Protection and Biodiversity Conservation Act 1999 (EPBC Act) that recognises colonies of 10,000 or more. This species is identifiable by its reddish-brown collar and grey head.
Human impacts are affecting its required habitat, and consequently the Grey-headed Flying-fox is listed as vulnerable under the federal Environment Protection and Biodiversity Conservation Act 1999.
Other Upper Hunter region species
Little Red Flying-fox
With a reddish-brown fur, this is the smallest Australian Flying-fox, often travelling further inland than the other species.
Black Flying-fox
Largely black in colour, this species is more predominant in the north and north-east of Australia
Raymond Terrace Flying-fox Camp
Grey-headed Flying-foxes have been known to occur in Raymond Terrace for many years. The camp is located on both sides of Adelaide Street in Ross Walbridge Reserve and Newbury Park.
Flying-fox numbers have fluctuated between 1,000 to 10,000 individuals in recent years, mainly in Newbury Park. In 2014, Port Stephens Council developed a Vegetation Management Plan to manage the negative interaction between the Flying-fox population and the local residents that were directly affected. This plan allowed Council to obtain a permit to remove vegetation in Newbury Park and create a buffer between the camp and the local residents. From mid 2015, numbers stayed constant at around 10,000 individuals however, in the autumn of 2016 numbers escalated to 20,000 spreading out into Ross Walbridge Reserve around the ponds.
In late 2016, early 2017, the number of Flying-foxes have reduced dramatically however, consistent seasonal variation and movement has always occurred.
Expansion can occur at the noisiest and smelliest stage of the Flying-foxes seasonal cycle when males mark their territories with scent to attract females. Unpleasant odour and noise issues, also impact local residents during peak Flying-fox occupation times at the two sites. The approximate area of the camp is shown on the map below. This area is not always fully occupied at any one time; and sometimes there have been hardly any Flying-foxes within Ross Walbridge Reserve with the majority of the camp residing in Newbury Park.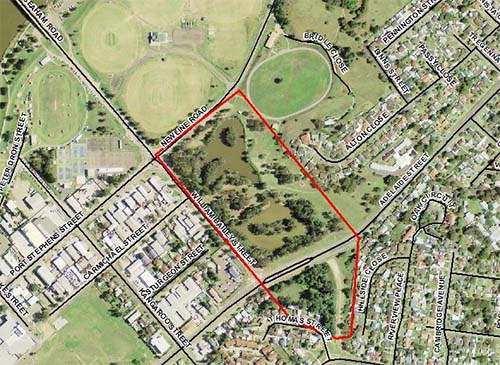 What is Council doing?
Port Stephens Council undertakes monthly monitoring of the Flying-fox population in Raymond Terrace and works closely with the Office of Environment and Heritage (OEH) as the lead agency on native animals to manage the situation in accordance with the approved Vegetation Management Plan and associated permit. Council also participates in a statewide Flying-fox Land Managers' Network coordinated by the OEH and collaborates with other Hunter region councils to develop strategic regional management approaches.
Hunter Councils was awarded a NSW government grant for a Flying-fox community engagement program involving 11 councils to support education programs and linked strategic approaches to ensure an integrated and long term approach is used to solve the complex issue of Flying fox management in our local communities.
In March 2017 Council invited residents to participate in a survey about management options for the camp. The results of this survey have now been collated into the draft Raymond Terrace Flying-fox Camp Management Plan which is on public exhibition during August and September 2018.
The draft management plan outlines the issues of community concern caused by the presence of flying-foxes and the management actions that may be taken to manage the land and reduce conflict with the local community.
These management actions are grouped into eight major themes. Residents may be interested in particular in the theme of 'Resident Assistance' which details actions which may occur in the event of large scale camp expansion. For example, these actions may include the provision of covers for cars, clotheslines or swimming pools or a loan arrangement of cleaning equipment such as gurneys.
Having an endorsed Management Plan for Flying-foxes in Raymond Terrace will help Council ensure the management actions detailed in the plan are able to be implemented.
About Flying-fox Camps
All Flying-foxes are nocturnal. They roost during the day in camps and travel at night, up to 50 km to feed. These communal camps may range in number from a few to hundreds of thousands of animals, with individual Flying-foxes often moving between camps.
Usually, the amount of food within a 20-50 km radius of a camp site will influence the size of a camp. That's why Flying-fox camps are most often temporary and seasonal because they are connected to the flowering of Flying-fox food trees. Because we can't exactly predict when and where flowering and fruiting will occur, there can be seasonal and yearly changes to the numbers of animals using the camps.
Not a lot is known about what makes Flying-foxes camp at certain sites however, in addition to being close to a source of food, research does suggest that Flying-foxes choose to roost in vegetation that has some of the following general characteristics:
a closed canopy over 5 metres high
dense vegetation with upper, mid and understorey layers
within 500 metres of permanent water sources
within 50 km of the coastline or at an elevation less than 65 m above sea level
level ground (<5° incline)
greater than one hectare in size to accommodate and sustain large numbers of Flying-foxes.