Wildlife
Many animals call Port Stephens home, and we try our hardest to provide a safe habitat for our native, and sometimes endangered species. Here you can find information on specific projects that we are working on.
Koalas
We are proud to be home to one of the last remaining koala populations on the east coast of Australia and we're working hard to protect them for future generations.
The Threatened Species Conservation Act 1995 identifies Koalas as being vulnerable and threatened in NSW. Some of the challenges facing koala populations include:
habitat loss
disease
vehicle collisions
dog attacks
To help protect the koalas of Port Stephens, we have developed the Comprehensive Koala Plan of Management (CKPoM).
Port Stephens Koala Sanctuary
Opening 26 September 2020, the Port Stephens Koala Sanctuary is a unique and innovative facility by Port Stephens Council, in partnership with Port Stephens Koalas and the NSW Government.
Focused on conservation, this facility includes a hospital for sick, injured or orphaned koalas as well as a tourism centre and cafe.
Port Stephens Conservation Crew
This is a new way for us to engage with our community on all things related to conservation. It will bring together people who are interested in being a part of a solution for biodiversity issues facing Port Stephens. Find out more on Port Stephens Conservation Crew.
Flying-foxes
The grey-headed flying-fox provides an important ecological role the in the pollination and spreading of native flora seeds.
Colonies are protected under federal and state legislation due to the significant role they play. Here in Port Stephens, we have a nationally important flying-fox camp based in Raymond Terrace that houses over 10000 foxes.
Human impacts are affecting the flying-foxes habitats and consequently it is listed as vulnerable under the federal Environmental Protection and Biodiversity Conservation Act 1999.
Flying-fox heat stress
Flying-foxes are affected by extreme heat. During these times it's important to:
keep away from flying fox camps
don't touch flying-foxes
If you see flying-foxes in distress please contact Council on 02 4988 0255
Raymond Terrace flying-fox camp
Grey-headed flying-foxes have been known to establish habitats in Raymond Terrace for many years and their camps are usually located on both sides of Adelaide Street in Newbury Park and Ross Walbridge Reserve.
Camp numbers have fluctuated between 1000 to 20000 in recent years, peaking in 2016. Council has developed a Vegetation Management Plan that will manage the flying-fox population in relation to the wider community.
Expansion usually occurs at the noisiest and smelliest stage of the flying-fox seasonal cycle when male foxes are marking their territory.
Camps are usually established near food sources and can often be temporary and seasonal.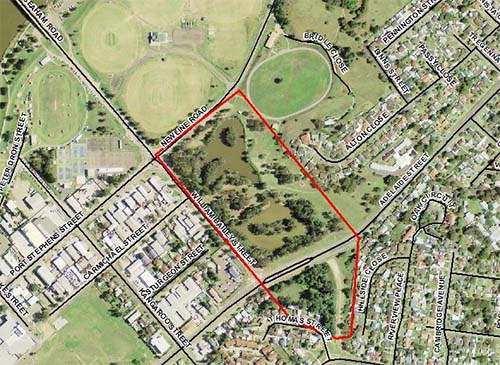 How to spot a flying-fox?
Flying-foxes found in Raymond Terrace are identifiable by their reddish-brown collar and grey head.
Little red flying-fox
Found in the upper hunter region, these flying-foxes have a reddish-brown fur and are the smallest Australian flying-fox often travelling further inland.
Black flying-fox
These flying-foxes are largely black in colour and are found mainly in the north and north-east of Australia.
Our role
We undertake monthly monitoring of the flying-fox population in Raymond Terrace and work closely with the Office of Environment and Heritage to manage the situation.
Hunter Councils was awarded a NSW government grant for a Flying-fox community engagement program involving 11 councils to support education programs and linked strategic approaches to ensure an integrated and long term approach is used to solve the complex issue of Flying fox management in our local communities.
Relevant documents