Have your say
Council is committed to involving our community in activities that actively shape and influence the future of the area.
This is done in a number of ways, through regular newsletters, forums and drop in information sessions. Many projects are placed on public exhibition so community members can consider and provide feedback on a variety of issues.
Depending on the project, it may range from simply informing the community to seeking views through a more detailed consultation process.
Go to the Public Exhibition section of this website to see what is currently on exhibition for Community feedback.
Council benefits from positive consultation with the community and other stakeholders. The process facilitates better access to and understanding of information, increased participation, raised awareness and a strengthened community.
Council has developed guidelines to support our Community Engagement Policy and help achieve our engagement goals, these can be viewed at:
Online engagement
Port Stephens Council has an online engagement hub https://haveyoursay.portstephens.nsw.gov.au.
The online engagement hub is designed to help meet our commitment to engage and involve our community to actively shape and influence the future of the area. The online hub is designed to complement and enhance more traditional forms of consultation such as the public exhibition process as outlined above.
On this online engagement hub you will be invited to take part through a range of online tools such as surveys, quick polls, surveys which will help provide feedback on a range of projects and initiatives.
You can view and be involved in many of our interactive projects on this site however Council encourages people to sign up to enable the full interactive experience. Click on the 'Speak up. Sign up' tile and follow the prompts. We encourage people to choose a login or screen name that is easy to remember, protects your privacy and gives you the freedom to have your say.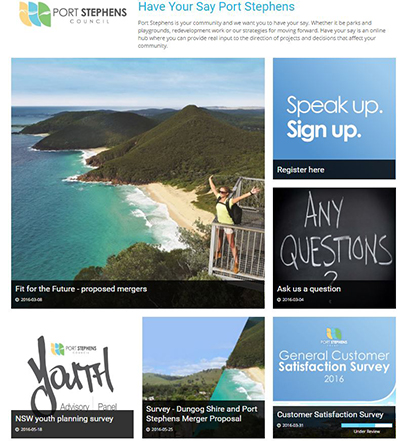 Subscribe to Informe
PSC Informe is Council's free community e-newsletter, which will keep you up to date on what's happening here at Port Stephens Council and in the community.
It is published bi-monthly after Council meetings and includes news, events, information about Council, and lots more. Subscribe to the Informe newsletter by filling in the online form below.
Improvements
Residents who had previously signed up for PSConverse (which was also called in the past Port Stephens Residents Panel) have had their details included into the mailing list for the e-newsletter Informe.
We are also encouraging engaged residents to sign up to our online engagement platform which we use to help actively shape and influence the future of the area. This engagement platform does not include all items for public consideration. The use of this platform for the various projects and programs depends on the specific engagement plan for each project and program.
The Public Exhibition section of this website remains the best source of information to cover all projects, programs, plans and policies, DA's etc.
If you have any questions for Council please Contact us.
Privacy
Please view Council's Privacy Statement for more information.
Your details will be kept on a secure database and will not be shared with anyone else. They will only be used for specific consultation activities and not used for any other purpose, nor will your identity be revealed to third parties within or outside Council.
Any views expressed will be collated and not individually identified.
Communication
Communication will be predominantly by email. Council provides feedback on consultations and information can also be found in Council reports on specific issues.
Contact
Phone: (02) 4988 0255
council@portstephens.nsw.gov.au