Youth
If you would like to add or change a listing, please email mylink@portstephens.nsw.gov.au.
Online connection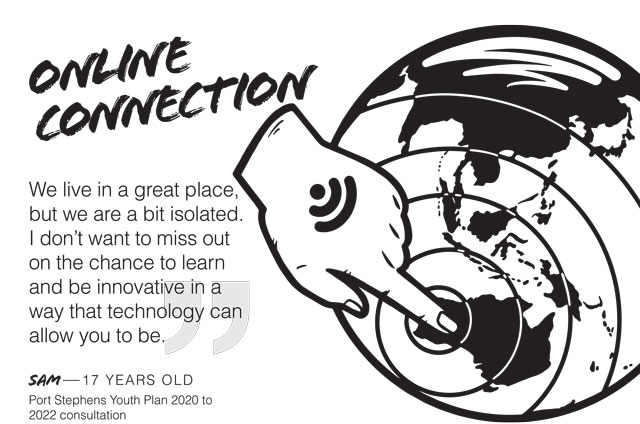 Resources for online connection
Free online and telephone support and counselling to young people 12 to 25 and their families and friends.
---
Australia's leading online mental health organisation for young people.
---
Going through tough times? Stress, anxiety and feeling down can affect anyone, and it happens to a lot of us at some point in our lives.
---
Anytime. Any reason.
---
Be You provides educators with knowledge, resources and strategies for helping children and young people achieve their best possible mental health.
---
Help for young people who have a parent who experiences mental illness.
---
A personalised self-help tool for your mental health, developed by Black Dog Institute.
---
Helping young people overcome anxiety.
---
National sexual, domestic and family violence hotline.
---
Support for eating disorders and body image issues.
---
Anonymous LGBTI peer support and referral for people wanting to talk about sexuality, identity, gender, bodies, feelings or relationships.
Social connection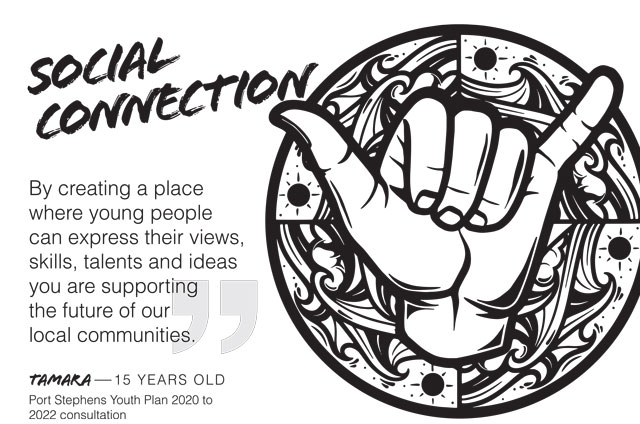 Resources for social connection
---
Tomaree Youth Community Action group (TYCA Inc.) is a not-for-profit group run by volunteers with the goal of empowering youth to fulfil their potential by providing spaces where youth can get together and interact in a positive environment whilst having fun and learning new things. TYCA run various programs which are mainly based around music, art and sport.
---
The Deck is a place for anyone aged 12 to 18 to drop in and hang out. Play Xbox, PlayStation, computer games, ping pong, pool, watch dvds, use the internet, join in art and craft, and much more.
---
Police Citizens Youth Clubs NSW is one of Australia's leading youth organisations.
---
Police Citizens Youth Clubs NSW is one of Australia's leading youth organisations.
Professional support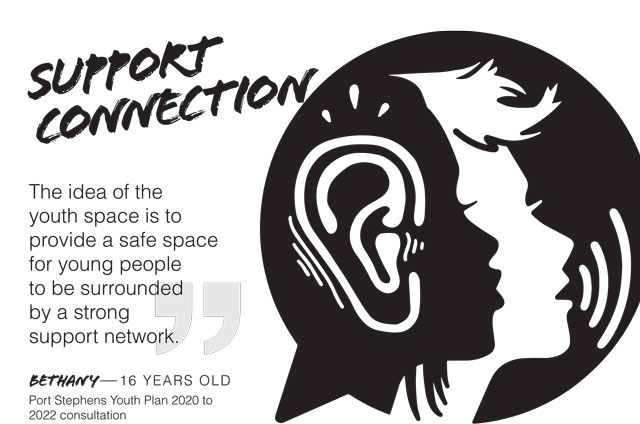 Resources for support connection
Port Stephens Family and Neighbourhood Services (PSFNS) is an incorporated not-for-profit organisation providing community services in Port Stephens.
---
Tomaree Community College is a Registered Training Organisation in Port Stephens.
17 Government Road Nelson Bay NSW 2315
---
Life can be hard and lonely, up and down at the best of times. It can help to talk to someone. Jupiter offers free counselling services for 12 to 18 year olds in Port Stephens.
7 Community Close Salamander Bay NSW 2317
---
73 Elgin Street Maitland NSW 2320
---
headspace Newcastle offers young people aged 12 to 25 with short term support for mild-to-moderate difficulties.
582 Hunter Street Newcastle NSW 2300
---
Other support
Al-Ateen is a fellowship of young Al-Anon members, usually teenagers, whose lives have been affected by someone else's drinking.
---
Alesco Senior College started in 2002 as Alesco Learning Centre — a registered and accredited, non-government independent school specifically designed for the inclusion of young people who cannot or will not complete their education within a traditional setting. The school offers grades 10 to 12 to young people of Newcastle, Lake Macquarie, Port Stephens and the Upper Hunter.
100 Laman Street Cooks Hill NSW 2300
---
When you're looking for support, Ask Izzy can help you to find the services you need, now and nearby. It is free and anonymous, and you can search over 360,000 services to find housing, meals, healthcare, counselling, legal advice, addiction treatment and a whole lot more.
---
CanTeen provides 12 to 24 year olds a place where they can simply be young people, away from the daily pressures of living with cancer in a hospital or at home.
Unit D, 10 Bradford lose Kotara NSW 2289
---
ConnectAbility promotes the inclusion of people with a disability in the wider community. This is based on working holistically with you to design a diary of events to connect you to fulfilling your individual goals and dreams. They will support you to live the life you choose and to be valued and included in your community.
46 Hudson Street Hamilton NSW 2303
---
Caring for Our Port Stephens Youth (COPSY) is a community group whose purpose is to ensure the best possible, independent youth health and wellbeing service is available to satisfy the needs of the young people living in Port Stephens who are at risk. COPSY's goal is to evaluate the best possible services and to advocate, facilitate and support an effective, sustainable and free mental health support service for young people aged 12 to 25 years and to ensure it is accessible, independent and based in the local community.
COPSY Inc., PO Box 384, Salamander Bay NSW 2317
---
4/42 William Street Raymond Terrace NSW 2324
---
Hunter Volunteer Centre (HVC) has been supporting community organisations and volunteers in the Hunter for more than 30 years. They are committed to promoting, encouraging and empowering volunteers in their contributions to the community and to support and resource organisations in the way they use volunteers.
Suite 2 Level 2 408 King Street Newcastle West NSW 2302
---
Lattitude Global Volunteering (formerly known as Gap Activity Projects) is an international youth development charity. Its mission is to educate and develop young people worldwide by providing inclusive opportunities for them to make a positive difference to the lives of others through a challenging and structured international volunteering experience in a culture and community different from their own.
Level 3 673 Bourke Street Melbourne VIC 3000
---
Use Our Local to discover local opportunities, activities, services and events for under 24 year olds across NSW.
---
The concert band is a non-profit organisation which welcomes all new members regardless of age and ability.
Nelson Bay PCYC 7 Austral Street Nelson Bay
---
Samaritans Youth Services offer extensive help to young people aged from 12 years. This includes support with everything from counselling, accommodation and parenting advice to drugs and alcohol, relationships and much more.
---
Yacaaba Centre's vision is to be a leading service provider of specialist homelessness services in the Port Stephens. It partners with other agencies to provide a "no wrong door" approach for people who are homeless, at imminent risk of homelessness or who are suffering as a result of abuse within the home, either currently or in the past.
29 Donald Street Nelson Bay NSW 2315